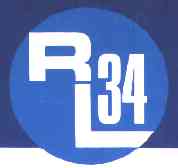 ---
---
WWW.RLYACHTS.NET

RL24, RL28, and RL34 Trailable Yachts
from Rob Legg Yachts
RL Yacht Owner's Discussion Forum
Return to the Forum List

Cockpit Roof / Spray Dodger ??
I am considering building a solar panel rack that will hold 2 x 40 watt panels permanently above the cockpit , about 1100mm long aft of the boom to the rear of cockpit seats.
This will provide shade and a base for tarps when anchored.
If I make it 1100mm high above the coaming, I will be able to stand fully upright in the cockpit still (Yes Really !! as I am a whopping 5'1")
I dont race, only cruise.
Would this be a danger due to windage?
Advantages I see, compared to having mounted over the stern, is:
1) having the weight closer to centre.
2) permanent shade.
3) hooking a tarp from it forward to a spray dodger. when at anchor
4) Still able to stand on deck either side of the motor well when boarding, disembarking and throwing the stern anchor out.

Main concern is if it may be very unsafe in adverse conditions that are generally encountered when cruising the coast?

Also considering a permanent spray dodger?

Sorry if this seems totally illogical, but my logic was thinking that when faced with making way in adverse conditions, this is the time to be as out of the elements as possible to avoid fatigue in rough, cold, wet & windy conditions, and out of the sun in thr hot tropical sun ???

Any advice appreciated, Andy.


Re: Cockpit Roof / Spray Dodger ??
Hi Andy,

I think I understand what you are attempting. I would be concerned about the height if you are allowing only for the more height challenged of us then others, either guest crew or potential new owners may find an issue. Also it might affect the ease of side entry although if you are not in a marina jetty then that is not of huge importance.

I have uploaded a picture of the targa on Swan which works extremely well. It only has 1 x 40watt panel but two could be fitted. This provides shade over the aft of the cot pit and there is a large bimini attached to the targa extending a long way forward that provides great shade. This was all fitted when I bought the boat. The professionally built Targa is probably not a cheap option but the bimini is quite standard. I donít think there is a great weight issue with this. All of this provides very effective shade to us very concerned about the sun here in Queensland.

It must have some effect on windage, not sure how much, but the benefits this weekend sailor outweigh the loss. If you life in the tropics then you know how it is. In fact, I would not own a boat that did not have sufficient shade.

I find dodgers annoying when sailing as you are always looking around them if they are big enough to do their job. I guess we typically donít sail when the weather is up too much either so rarely have water coming over the cabin top. But when at anchor you do need to stop the wind so we have an extension that zips into the binini and clips to the top of the cabin. If you go this way, attempt to have this wide enough or with side wings so that a much wind and rain is deflected. You may need additional bungy cord to the life lines to hold it in shape.

Russell


Re: Cockpit Roof / Spray Dodger ??
Andy.
Everything that Roger has said is good advice if you owned a RL28, but not for a 24, so please give some more detail. ie. is your boat swing keel, or drop keel, how expeirenced are you, and how many crew do you normally sail with? also looking at a photograph that you recently submitted, it appears that your mast is unusually big in section,and may be overheavy. So taking all of those things in to consideration you may need to add some internal ballast and reduce your rig if you decide to proceed, and do intend to do some coastal cruising.


Re: Cockpit Roof / Spray Dodger ??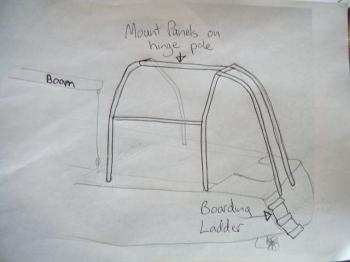 Thanks Rob & Russell
Is a swing keel, has the wide coaming (maybe Mk 2?)
Mast section is 100mm deep (including built in sail track) x 75 wide at 7.9 mtrs high.
I am not very experienced with Rl24 but feel confident with her. Sailed to darwin from port douglas in a 48' cat. So have a fair idea of what its like out there when rough.
Usually day sail with 2 others but longer trips with 1 other or alone.
Have set up for single handed and really enjoy a challenge. I like it rough and wet so not too concerned with adding a dodger. Just thinking that at times when I would want one, a flimsy one could be more hassle than help?
Would x2 100 amp hr batteries secured on the floor either side of the keel box, and camping gear be adequate ballast, or more?How?
I can draw up the solar rack idea and attach to show what i mean as would still be able to stand on the seats, coamings and deck either side of the motor well, as i find i do stand in these areas often as for others over 5'3"standing in the centre of the cockpit, im not concerned at all. ;)
I am a vehicle builder by trade, have experience building alloy fishing and rescue boats in newcastle. Was thinking of making rack out of 1.6 alloy rather than stainless to minimise weight. Hopefully the attached pic will help to see what I mean, its not to scale. The panels would attach to a centre pole so can swivel side ways to catch the sun.
Regards Andy


Re: Cockpit Roof / Spray Dodger ??
It sounds like you have an RL24 Mk3 which is a very light yacht with minimal ballast.

Adding anything up high reduces the stability gained from the keel.

Add your panels and you are likely to get into trouble due to the weight and windage. Also all that weight over the stern is not going to help with efficient sailing.

I have an RL24 with a bimini behind the boom. The bimini is light alloy tube and can be dropped and removed in an few seconds if the wind picks up.

The RL24 is not suitable for extended coastal cruising due to its limited carrying capacity and light ballast.

Don't put any weight up high without considering the loss of stability and the loss of efficiency due to the windage.

I have cruised a fair bit in sheltered waters and a bit in exposed waters and can assure you the RL24 is controllable in 15 to 20 knots, needs experienced crew to sail up to 30 knots and is in survival situations when the wind gets above 35 knots. Add all that weight and windage and 25 knot winds are going to be survival conditions due to your yachts lesser stability.


Re: Cockpit Roof / Spray Dodger ??
Thanks Greg
Last year After fitting out the cabin ,(adding quite a bit of weight in timber, replaced the 6Hp with a 9.9, and a 40 watt panel on the hatch roof), strengthening the keel box, roof, floor and hatch opening, loaded up for camping, (food, 20ltr water, 100 amp hr battery, spares & tools etc), and a big extra anchor, two average sized crew and me, I was surprised that boat still seems to handle really well.
Could definitely feel the extra weight tho. And I guess it puts a lot more stress on the rigging?
Last trip I hooked along alone from Charles point to Fanny bay at over 7 knots on a broad reach, she felt safe and controllable on full sail and genoa rolled away a little.
Now I have 2 batteries, (either side of the keel box), 50 litre water bag plus 2 x 10 litre water cans, (on the floor in rear of cabin under cockpit).
I was also hoping to run a little Engel fridge, (20 litre?), on the floor next to keel box as well (hence the want to add another 40 watt panel somewhere). Could that add to ballast?
In regard to the Windage of the panels, their area is only 1.1 x 0.6 mtrs. Is that significant?
I am very inexperienced with this type of boat so all advice much appreciated.
Regards Andy


Re: Cockpit Roof / Spray Dodger ??
Andy, INMA is similar to your yacht, cruising under main and jib I have seen 9-10 knots for an hour or more in 25 knot winds because she planes. Add weight and her ability to plane is restricted and her stability in heavier conditions will be limited to hull speed where the keel is the significant force countering the rig forces.

RL24s do not handle well when overloaded. I tow a tender which takes enough performance away from the yacht that she does not trim properly and does not plane when in stronger winds. the result of the extra load with the tender is she does not handle efficiently so I end up reefed and motorsailing unless down wind.

Weight is not the RL24's best friend, they rely on the easily driven hull and efficient rig to remain stable, easily controlled and safe.

For information, I use a 5hp Mariner outboard with 70 liters of fuel which has proven to be more than adequate to handle the RL24, I could not justify carrying the extra weight of a larger outboard where the extra power would never be used. The 70 liters of fuel is ample for several weeks cruising in the Whitsundays.

Most people choose heavier yachts designed to take weight and load for cruising in open waters.


Re: Cockpit Roof / Spray Dodger ??
Andy.
Some very good advice there from Greg for short handed sailing.
You can safely add up to 200Kg of extra gear on your boat if you are to sail just two up, but anything that is more than 50cm above the cabin floor will have a negative righting moment in the event of a knock down, also most important to make sure that any heavy items are well secured, and your keel is fitted with a lockdown device

I know of several instances where headsails that overlap the mast have caused problems with tangled sheets getting caught up and preventing the boat from laying head to wind and tacking,and it is surprising just how hard it is to operate the roller furling when the wind is really strong, so best to opt for non overlaping headsails.

Finally and most important is to ensure that your boat has sufficient floatation to support all of that extra gear.

Good luck and take care.


Re: Cockpit Roof / Spray Dodger ??
Thanks Greg and Rob
Thats the stuff I need to know
Rob, you suggested my mast may be extra large and heavy? 100mm including inbuilt sail track, x 75 wide, x 7.9 mtrs high(not tapered)??
Greg, 70 Litres of fuel !!! thats a lot of weight. Where do you store all that? in cabin area?
Plan on buying a 6kg Lewmar Delta anchor to back up my trusty Bruce and get rid of the oversized sand anchor.
Was thinking the weight of rack was way less than a passenger, but yes, it is centred high and not able to be shifted to assist.
So I guess a bimini is the best option, and would be well appreciated when the going is slow.
I am currently adding extra floatation in the form of closed cell foam for a further 120mm below the existing foam in coamings, and stern compartments. Enuf or not?, only a disaster would tell.
With 7 mtr tides here I have been carried along at 6 knots without sail and in a few hairy situations I got myself into, thru lack of experience, the 9.9 hp pulled me out when the 6hp most likely would not have, on at least one occasion. I feel much safer knowing i dont have to run it flat out to make way to shelter before dark, or fighting wind and currrent for hours if need be.
Mostly I sail conservatively, to get to a good sheltered anchorage and do some fishing and exploring. I am not using the RL as a sports boat. But I love it when water is splashing over the cabin. I have occasionally pushed it a bit just to get a feel for the boat, but MY "pushing it a bit", is nothing to a friends "pushing it" up here on his RL24 "Blaze". His was my first taste of an RL24 and being an ex flat sailer, I can honestly say I was shocked by his acceptable angle of sailing!!
My fairly limited experience is with small cats and large ones (not mediums). so used to speed but still totally enjoy even windless ness. I have been satisfied with the Rl24, with gear, 9.9 and even with 3 medium weight crew and myself, (which could be counted as a half crewman in weight). She was within my budget, she gets me on the water, and feels safe in 15knots, not reefed.
I have come to appreciate many of the design points. I have significantly strenghthened her, and am always happy to own her after checking out other similar sized trailerables. So I wont be stepping up to anything short of a totally live-aboardable.
I weigh 45 kg. If I add that to the 9.9 then still less than yr average single hander with a small outboard :)
Although convenient in good conditions, I have realised that the genoa and furler is not safe and recently got some jibs to try. I imagine they will improve close hauled efforts also?. Also got a smaller main to try. And will definitely be reefing early.

I wont be on the water this dry season until the 1st week of september, so have some time to plan, tinker, fix etc.
Just finished gelcoating the full tilt transom, and bung openings that allow the whole boat to be drained easily on a gentle slope beach if needed. Also added manual bilge pumps one inside the cabin and one to the side of the cockpit seat (can be operated while steering).
Have been working on the floatation chambers for 2 seasons. Will be completed soon. Last year I cut 2 access holes and removed all the foam from the cockpit floor chamber, and repaired crack. Now have gelcoated the bottom of it and stuff it chockers with pieces of solid pool noodle foam (easily removed if needed). The quarter berth chambers are stuffed with extra life jackets and the Bow chamber is full of empty plastic bottles (mostly old turps and metho bottles as sturdier than drink)

All advice, opinions much appreciated
Andy


Re: Cockpit Roof / Spray Dodger ??
Andy, INMA's mast is probably half the weight of your mast with considerably less weight up high due to the taper.

I do not have the weight of the furler up high.

I use A fortress FX7 anchor weighting 1.8kg, its the best anchor for holding on sand and mud. I use a 1/4 inch chain and 10mm nylon rope per Fortress recommendations. The Fortress is rated to over 1200kg holding power in hard sand.

For anchoring in hard rubble I use a heavy anchor similar to your Bruce with 10 meters of 5/16 chain and 10mm nylon rope.

Nylon rope for the anchor tackle is essential so the line stretches under load instead of jerking on the deck fittings and anchor.

The 5hp Mariner pushes the yacht at hull speed with the tender on the stern. Pushing into winds of 25 knots we are restricted to 3-4 knots to reduce slamming, more power makes no difference as long as you can get hull speed.

70 liters is stored in a 22 litre SS tank, the standard 12 litre tank, 2 liters in the outboard internal tank and four 10 litre plastic cans. The fuel is stored each side of the engine in the well with the galley rubbish.

My RL24 sails flat and has no more than 10 degrees heel, its not efficient to over sheet the sails and sail with lots of heel, they are not old keel boats.

I have a 100% jib and mainsail sailing comfortably from zero wind to 20 knots simply by adjusting the sails and rig and keeping her flat and efficient.

The jib is hanked on and has a downhaul to avoid needing to work the bow.

The mainsail has single line reefing to the 3rd reef which is located over 2 meters up the sail. I have not used the first or second reef when cruising, once I decide to reef its the big one and I will motor if needed.

Return to the Forum List
Add a message to this discussion