New RL 24 Owner
I have just purchased sail no 447 "Summerdream" a mark 3 in very good condition.I need help with the best way to raise the mast, is there a special mast crutch design that will allow it to sit well above parallel, making the mast easier to lift> My boat did not come with one, maybe Rob Legg made a production version?
Also there is a water tank near the bow, it looks like it was installed at manufacture, can it be accessed. Would appreciate any answers.


Re: New RL 24 Owner
There are some great ideas in the Tips and Modifications section. Some are for RL28s but could be applied to the '24 as well.

If there is no inspection hatch for the water tank and you wish to fit one, something like the Ronstan RF530W would be ideal.


Re: New RL 24 Owner
Rod, on all the RL24's I have seen the section up at the bow has always been a buoyancy tank, not a water tank , many were filled with foam.There are all sorts of different ideas around to help raise and lower masts. Not sure of your situation or which mast is on your boat. If you have a round section tapered mast and you are reasonably fit the masts are not usually very heavy and with someone holding it up in the cockpit the person on the cabin top should be able to lift it up to vertical then the person from the cockpit goes to the bow to fasten the fore stay. If you are trying to do it on your own a support at the back of the boat with a roller on it is a great idea. Remember an RL24 is just a big dinghy with a cabin on it and standing the tapered masts can be made a lot more complicated than it needs to be by thinking that every thing is big and heavy


Re: New RL 24 Owner
Rod, you don't mention where you are located.

There are probably people and boats near you which you can check to see how they do it.

INMA has a pole with a roller at the back. I stand on the deck and lift or lower the mast. I use the spinnaker halyard to hold the mast up while I secure the forestay.

The mast is a medium lift once you get you position figure out.


Re: New RL 24 Owner
Rod.
Good advice from Keith, Darryn, and Greg.
Regarding the forward tank, this was factory fitted and is intended as a bouyancy compartment along with the other sealed compartments under the berths and coamings and left intact would ensure that the boat would float in a horizontal position if filled with water. Fresh drinking water would preferably be carried in portable containers on the floor under the cockpit.
Regarding the raising of the mast I would agree that it is simple and only requires about 30 Kg to initally to lift it to shoulder height, and from then on with the help of someone hauling on a line attached to the forestay it is simple, really, it is only a matter of gaining the confidence and practice, just ensure that the shrouds attached each side are clear first and not likley to kink. It sounds as though Greg manages it all on his own.
The manufacture of a device to assist was never considered.


Re: New RL 24 Owner
Thank you for all your answers. I feel more informed about mast raising. Thank you Rob Legg for explaining about the water tank. Can you tell me if it is a flexible bladder type or a fibreglass moulding?
The fit out in the cabin is really nice, it includes a ss sink in the port side moulding and teak draws, is this factory fit out? Regards, Rod


Re: New RL 24 Owner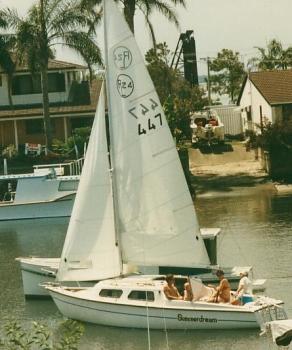 Rod.
Your forward tank would not have a bladder installed it would be simply a flowcoated fibreglass interior and not suitable for drinking water. If it had been converted to a water tank it would have been done by a previous owner.

I remember "Summer dream" well, the final fit out was done by her first owner and he had spent his working life working in timber, she was a beautiful boat.


Re: New RL 24 Owner
Rob thanks for the photo of Summer Dream. The boat is still in superb condition, and will be looked after with the same care and attention that previous owners have given. One more question regarding the trailer. Is it a good idea to fit some sort of supports on the end of the trailer to help keep the hull centered when launching and retreiving? Would like to hear any ideas on this from other RL owners. Thanks, Rod



Re: New RL 24 Owner
I am also new to the RL scene and raising the mast was a concern because I am in my late 60s. My wife is my sailing partner and as a result, rigging the boat is all up to me. I use a single gin pole system similar to the one shown in Tips and Modifications entitled No fear Mast Stepping. I use the main block as the winch and the jib halyard as the connection between the mast and the gin pole. The gin pole is 2.1 metres long. This allows me to stand on the coach-roof and reach up to connect and disconnect the tackle. The gin pole is secured to the base of the mast with a yoke lasd on so that it does not slip out of position.
The lower pulley is connected to the bow fittings. Raising and lowering the mast is a simple and safe procedure using this method.



Re: New RL 24 Owner
I am based in Canada and stepping masts (especially the tree trunk ye tto be raised on my boat) has been a topic of discussion. We have members with McGregor 26 which sells a system which includes a type of winch called a brake winch. The brake allows you to wind it up or down without it getting away from you. The system looks a bit like some of the ones on tips and modifications but with the winch fitted to a spar which is attached to the lower mast. It should be easy enough to put together from bits.

Ric