Nationals 2013 Lake Macquarie
Happy birthday Rob

For updates on nationals go to: RL 24 face book page
https://m.facebook.com/profile.php?id=182203841828832&__user=100000656514350


Re: Nationals 2013 Lake Macquarie
RL 24 nationals RMYC Toronto
Invitation Race 1 was won by Dodgy Vindaloo, 2nd was Lowana VI, 3rd was Cosmic Sedso, 4th was Spud Gun and 5th was Spiral Navigator.

The second Invitation Race was won by Spud Gun, 2nd was Cosmic Sedso, 3rd was Dodgy Vindaloo, 4th was Lowana V and 5th was Spiral Navigator.

The third race was cancelled.

Today we had 15 knots of sou-east wind. There was less than one minute between 1st and 4th. The lead changed on every leg which made for great racing. Mistakes made on the race course separated the boats which makes the National Title wide open as all boats are equal in speed.

All smiles by crew and owners as it's game on for a fast and furious week.



Re: Nationals 2013 Lake Macquarie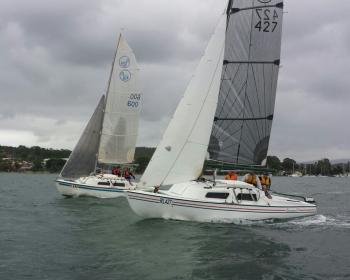 RL24 41st National Championships 2014

Hosted By Royal Motor Yacht Club Toronto

Royal Motor Yacht Club Toronto

Updated: 1/7/2014 5:18:14 PM

Series Results [RL24ScratchFlt2014] up to Race 2
Place Ties Sail No Boat Name Skipper Class Sers Score Race 2 Race 1
1 126 Spud Gun Luke Ratcliff RL 24 DK 2.8 0.8 2.0
2 402 Lowana V Simon Vaughn RL 24 DK 5.8 5.0 0.8
3 427 Lowana VI Mick Shannon RL 24 DK 6.5 3.5 3.0
4 111 Dodgy Vindaloo Tim Jackman RL 24 DK 7.5 3.5 4.0
5 600 Cosmic Sedso Paul Corben RL 24 DK 10.0 2.0 8.0F
6 500 F-Troop Brad Taylor RL 24 DK 11.0 6.0 5.0
7 47 Spiral Navigator Wayne Hill RL 24 SK 13.0 7.0 6.0

(Ties: S=Score R=Race B= Bettered. Penalties: A=ARB B=BFD C=DNC D=DNE E=ESP F=DNF G=RDG I=DPI L=Late Entrant M=DGM N=ENP O=OCS P=Protest Q=DSQ R=RET S=DNS T=TLE U=DUT V=AVG X=EXC Z=ZFP Y=SCP #=NoData [x.y]=Discarded)
Results by : TopYacht Software

Close Window | Print This Page

LinkBack : back to Series page



Re: Nationals 2013 Lake Macquarie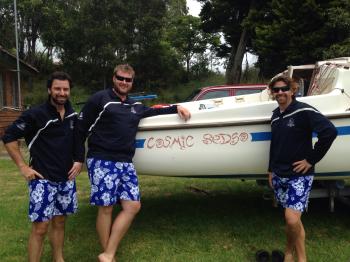 Race 2 and 3 on Tuesday was sailed in a SE 12-18 knot breeze . The morning race was the long course with LowanaV getting the gun with a great comeback on the last leg to take the lead to the finish.

The afternoon race was a short course. Everyone was a bit keen at the start with Lowana V a bit early . The lead changed several times down the spinnaker runs , Lowana VI was fast upwind then dropping some places on the runs. On the last rounding mark there was a near miss with Lowana VI and Spud gun which gave Cosmicsedso a lead up to the finish. Four boats traded blows up the last work with Spud gun taking the win.

Races 3 and 4 today expected light south to southeast breeze.



Re: Nationals 2013 Lake Macquarie
nice work luke on the coverage at the nationals if it is not too much trouble add an on-board camera so the lounge chair critics can really get involved. maybe sound too?


Re: Nationals 2013 Lake Macquarie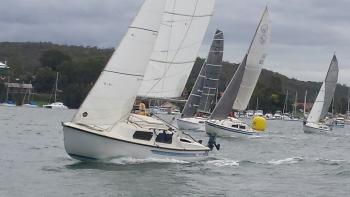 Wednesday racing totally dominated by F-Troop from RQYS with two wins which lifts his ranking to second overall. Simon on Lowana V is currently leading with two seconds.
Conditions today were SE 5-12 knots variable which made it difficult to pick the winning side.
All eyes on F- troop tomorrow to see if they can continue their domination.


Pictures from the Nationals - Day 3
More great pictures of the 2013/2014 Nationals at Lake Macquarie from Lisa Ratcliff.

Day 3: Breeze was easterly 10 knots on Lake Macquarie.
On scratch results F-Troop leads on 7.3, Spud Gun second on 8.8, Lowana 5 third on 8.8.
All comes down to the final race.



Re: Nationals 2013 Lake Macquarie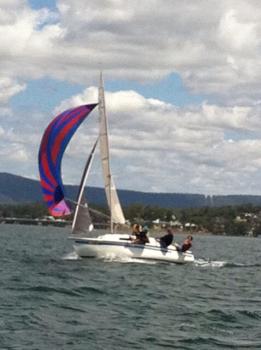 More great shots here-
http://www.seabreeze.com.au/forums/Sailing/General/41st-RL-24-nationals-Lake-Macquarie-Toronto-RMYC/?page=-2#lastpost


Re: Nationals 2013 Lake Macquarie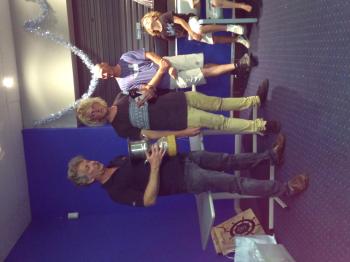 RL 24 Nationals Toronto RMYC 2014

Well done to F-Troop for winning the RL 24 Nationals. Brad , Shane and Adam sailed well to take the title.
Spud gun and Lowana V finished equal 2nd with Lowana VI and Cosmicsedso equal 3 rd. Dodgy Vindaloo and Spiral Navigator took out the final placings with Spiral in the swing keel division.
Special guest was Tom Addis from Wild Oats and Volvo ocean race navigator handing out prizes and talking about his sailing experiences.

Great racing had by all and looking forward to traveling to QLD nationals 2015.