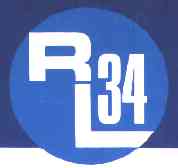 ---
---
WWW.RLYACHTS.NET

RL24, RL28, and RL34 Trailable Yachts
from Rob Legg Yachts
RL Yacht Owner's Discussion Forum
Return to the Forum List

A new trailer for Sandpiper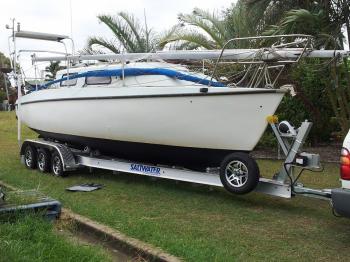 Hi guys.
The next step of bringing our RL28 up to date was the commissioning of its brand new, all aluminium, trailer from Petersons Trailers in Victoria.

It is a tri axle, with Electric/hydraulic brakes on all 6 wheels. The brake callipers and rotors are all stainless steel, and the suspension is torsion bar suspension.

All up the trailer weighs in at just under 600kg and is rated to 3.5 tonne.


Re: A new trailer for Sandpiper
Looks pretty nice. Can I ask the price? you can email to alister at lva dot com dot au if you would rather not say out loud.

cheers


Re: A new trailer for Sandpiper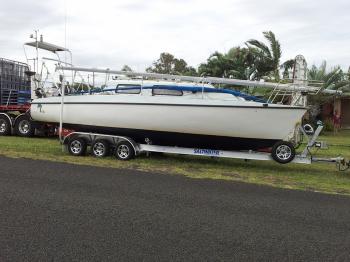 Hi Allister. Mate I don't mind disclosing the price. All up it was $15,150.
At first I thought "no way", but then I started to look at all the good points and then realised that it would be probably be the last trailer I would ever buy, and then I started to see it in a different light.
Other similar Aluminium trailers from some of the bigger brand names, with not as many extras, were around the $18,000 to $20,000 mark.

I did look into Importing one from a USA manufacturer, for around $10,000 to $12,000, but I had been told that they use a lesser grade of aluminium, resulting in corrosion after a couple of years.

I was going to build my own, which would have cost about $3,000, out of mild gal steel and standard suspension. But from past experience, I would only expect to get about 2 to 3 years reliable service out of it before rust started to set in.

So I bit the bullet and got the Peterson Trailer made. I still can't believe I spent that much on a trailer, but I certainly haven't regretted it.


Re: A new trailer for Sandpiper
Just an extra note. I recently towed Sandpiper on its new trailer 2,400kms over 3 states. It towed like a dream, using my 100 series Landcruiser on LPG.

I was cautious at first, not going over 80km/h. This soon blew out to 90 and then 100km/h. The trailer just sat behind like it was on rails.

I did go overboard at one stage and got it up to 120km/h, just to see if it reacted in any way. The result was still the same, tracking true behind the car with absolutely NO sway.

I was very pleased with it.

The all up weight comes in at 3,000kg.

Garry


Re: A new trailer for Sandpiper
Just another update:
The trailer is now 3 years old, has travelled close to 6,000kms, and still looks and rides like it was brand new.
No corrosion anywhere.
I am very happy with my decision to have it made.

Garry

Return to the Forum List
Add a message to this discussion