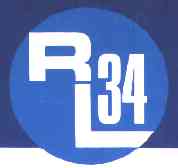 ---
---
WWW.RLYACHTS.NET

RL24, RL28, and RL34 Trailable Yachts
from Rob Legg Yachts
RL Yacht Owner's Discussion Forum
Return to the Forum List

Press release - F-Troop storms the RL24 National Championship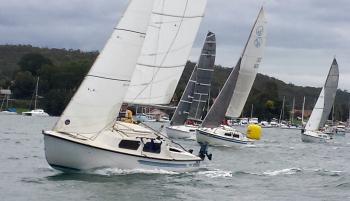 The 41st RL24 National Championship held at Lake Macquarie January 6th – 10th, 2014, drew a small but quality fleet from three states and heading into the final race multiple crews had the chance to claim the biggest slice of the silverware.

Brad Taylor's F-Troop (QLD) was named national champion for 2014 (8 points) and behind him the points were all tied up. Luke and Lisa Ratcliff's Spud Gun (NSW) and Simon Vaughan's Lowana V (NSW) couldn't be separated and both were awarded second place with 12.8 points apiece.

The contest for third was equally hard-fought, Paul Corben's Cosmic Sedso (VIC) and class stalwart Mick Shannon and Lowana VI (VIC) also equal on 14 points.

Taylor, a champion Laser sailor, began his run to the top quietly. He raced two-up on day one, a tough ask for these quick trailer yachts, particularly on the downwind kite runs in the 15-18 knot SE breeze when others were making full use of 3-5 crew.

When Taylor added a third crew member, Adam Boslem, to the bow, consistent top results started to flow.

Boslem arrived back on Sydney to Hobart boat She's the Culprit on day 2 of the RL nationals and later that same day he was back out on the water quickly learning the foredeck with Taylor and Shane Fairweather.

The week produced light to moderate conditions, 15 knots of sou'east breeze for Monday's invitational races and 15-18 knots on day two. As the regatta progressed the breeze swung to the east and eased, and the temperature on and off the racetrack climbed.

As with any type of close class racing good starts were key to hitting the front of the pack in clear air, then it was a matter of picking the right side of the shifts and knocks. The fleet often split up the course and the lead changed several times before several RL24s came together at the marks, where there was plenty of pushing and shoving.

The Royal Motor Yacht at Toronto on the western shore of the Lake was a terrific venue with handy trailer boat facilities and a grassed area with seating and BBQ where the RL24 sailors could dissect each day while the many kids sailing in the nationals played hours of soccer.

Families were a key element at the nationals. Mick Shannon, who has been racing an RL24 for 37 years, had his son Charlie and grandsons Tim and Jack aboard. The Ratcliffs had their three kids helming and on the foredeck and Simon Vaughan and his crewman both had their young sons aboard.

History shows that campaigning RL24s is an intergenerational sport. It's not unusual for parents to pass on their boat to one of the offspring, fostering the family and community spirit in Australia's most popular trailer yacht class.

For the dinner and trophy presentation the class was lucky to have Volvo Ocean Race and Wild Oats XI navigator /meteorologist Tom Addis, give a spectacular presentation on his favourite endurance event, the VOR. Addis agreed to present the trophies with Wayne Hill, owner of Spiral Navigator and newly elected RL24 Association president.

As well as the usual first, a second and third trophy for divisional placings, Mick Shannon was presented with the oldest skipper in the fleet flag, an honour that has been bestowed on him many times.

A major facelift for Spud Gun after it was bought from Gippsland Lake residents Bernie and Ruth Ryan was rewarded with the race committee's nomination for 'prettiest boat in the fleet'. The crew also picked up the class' chief novelty trophy, the Toad trophy, which is presented annually to one crew for 'conclusive consistency'. On this occasion other class members deemed that running aground in the mud every day coming into the RMYCT marina was worthy.

Full results

The RL24 has two configurations and both are raced consistently. While the drop keel version has a slightly higher Class Basic Handicap (CBH) it's not uncommon to see a swing keel first to the windward mark.

The association awards divisional trophies for drop keel, swing keel and, depending on numbers, will also run a cruising class for boats without spinnakers. The cruising class enables owners to join a national title, pick up development and efficiency hints and racing tips and enjoy a more relaxed approach to competition. A series handicap trophy is also awarded.

The 42nd RL24 National Championship will be staged at Royal Queensland Yacht Squadron next January 4th – 9th, 2015. The provisional schedule of racing is as follows:
Sunday 4th January – 3 short invitation races
Mon 5th – 2 races
Tues 6th – 2 races
Wed 7th – lay day
Thursday 8th – 2 races
Friday 9th – 1 race with possibility of another if needed

Camping and motel accommodation are available at RQYS http://www.rqys.com.au/

For further information on the nationals contact the class secretary Paul Corben e. corben.paul.g@edumail.vic.gov.au

History of the RL24

Designer and builder Rob Legg's first GRP RL24 was launched in July 1973 and displayed at the Brisbane Boat Show. After spending a weekend at the show Legg went home with five orders.

By 1974 there were fifty 24s sailing around Australia and an association formed. The first national titles were held in August of that year, with boats coming from three states and as far afield as Whyalla and Port Pirie. The series was won by Scarlet Lady (Des Stanaway) of Brisbane; his boat was still being finished off during the series.

Legg designed and built trailerable RL24s, 28s and 34s until 1987 with four models of RL24:

Mark I: The first 10 had a slight chine mark-up forward due to the original plug configuration. Altogether 100 Mark I's were built.

Mark II: From 1976 featured an upgraded hull finish and a heavier centreboard after some knockdowns.

Mark III: Built from 1980 had a new deck with increased headroom and interior alterations.

Mark IV: A faster boat designed primarily for racing with a fully battened main and a drop keel and was instigated by Peter Yeomans of Sydney in his third RL24. The RL24 was also built in Minnesota USA under license and some 500 boats were constructed there. A dozen were also built in Western Australia.

Legg is in his mid-80s and stays in touch with the RL24 Association, including keenly watching the results for each national title.

Story and images by Lisa Ratcliff/RL24 Association media, history courtesy of http://www.rlyachts.net/



Re: Press release - F-Troop storms the RL24 National Championship
Thanks for that great piece, Lisa. However, I must take issue with one line of your report.

"It's not unusual for parents to pass on their boat to one of the offspring, fostering the family and community spirit in Australia's most popular trailer yacht class."

Mick Shannon has been often nicknamed "Old Araldite" and for good reason. Each of his sons have had to part with their own hard earned to own, or even to helm, an RL. It's an injustice.

Return to the Forum List
Add a message to this discussion