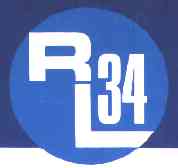 ---
---
WWW.RLYACHTS.NET

RL24, RL28, and RL34 Trailable Yachts
from Rob Legg Yachts
RL Yacht Owner's Discussion Forum
Return to the Forum List

Sail twist
Finally got the RL 24 out on its maiden voyage Sunday. It was good to finally see it in the water. In the many things we discovered, one thing I did not like was that no matter how hard I tried, I was not happy with the sail shape. My biggest complaint was near the top, the sail had a vertical fold line just behind the top batton. Rather than being a smooth curve, there was an abrupt partial vertical fold in the sail. The fold was most pronounced at the top, but extended down to the second batton. Any ideas on how to get the sail to curve? The jib was not the best either. Seemed to want to curve in the middle of the sail, rather than nearer the top. Moving the traveler did not help.

The GPS peaked at 8 kmh.


Re: Sail twist
Vertical creases in the sail can be due to number of factors the most obvious being too much luff tension for the wind conditions. Which seem to have been light on the day. Could also check that battens are not overtight.


Re: Sail twist
I'm thinking my main was cut to have the foot in the boom. I ran it that way yesterday and today, and the sail shape seemed better. I still had some vertical crease, but not all the time. I also seemed to be able to control the over all shape much better as well.

Yesterdays sail was a little wild. Being that I had 3 crew (family) who knew nothing about sailing, I only put up the main, just to keep things simple. It was probably just as well. The wind picked a lot. I reefed the main, which was a bit of a task, in strong changing winds. Even with the main reefed and no jib, the boat felt a little over canvased. I have no idea what the wind speed was. Today the wind was much better, probably maxed out at 15. That allowed me to play with the main a little and try to get the shape right. I was also able to experiment with something I've thought to do for a while. I put a bungee on the main sheet traveler. As the wind would pick up, the bungee would let the traveler move leeward, and automatically adjust the main. Within a certain range, it worked very well. Between that and having the tiller cleated down, I could sit back and just watch the boat sail all by its self. If we have fair winds tomorrow, I may run a bungee to the jib as well. Is it OK to be a lazy skipper?


Re: Sail twist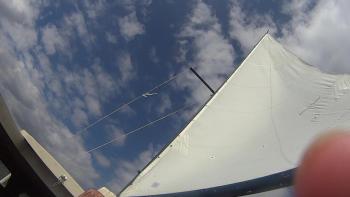 I've attached a photo of the top of the sail. You can see the sail just seems to sag under its own weight.

Return to the Forum List
Add a message to this discussion