Return of Beyond 2000/RL8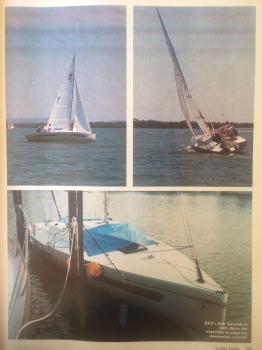 I have an update on Beyond 2000. I have just negotiated a deal to purchase it. It is in a sorry state and will take some time to restore. This has been a long journey to locate this amazing yacht. When time permits I will post photos.


Re: Return of Beyond 2000/RL8
Colin.
I too had been trying to find "Beyond 2000" for many years, but she seemed to disappear after she was taken up north in 1991.
I originally designed and built her only as the plug for a new model of a pure racing boat that we planned would go in to production in 1990, but sold the business before then, unfortunately the new owners were not interested in an untried model, so when I retired I finished off the plug as a boat at home.
'Beyond 2000" was only beaten once during that first season and was a very exciting boat to sail, but I was now past sixty and found her a too demanding boat for me to race and was coming home absolutely tired out at the end of a days sailing, so decided that she should go to someone much younger and fitter, so I sold her and went back to racing our RL34.
Best of luck with your plans to rebuild her Colin and look forward to hearing more of "Beyond 2000" inn the future.


Re: Return of Beyond 2000/RL8
I am very excited and nervous about this project. I have so many mixed feelings as I do not want to undo Robbs great work. The boat has been like looking for the holy grail. The breakthrough came on this site after giving up almost. I went back to basics and went through the owner register, and low and behold Peter had registered on this site. I did some more research and sent an email thinking this will be a very long shot. To my absolute amazement I got a reply, and he may be interested in selling the boat. After several long phone calls we meet and I viewed the boat in the very late afternoon. Some negotiation via phone followed, and an amicable agreement was reached.
Thank you Rob for your email I have been overwhelmed by your contact. I feel proud to be the custodian of your Last Legg.


Re: Return of Beyond 2000/RL8
Just a note. If you search this forum you will see my first post in search of Beyond 2000. Just search Rl8. That was July 2002. Never give up!


Re: Return of Beyond 2000/RL8
People were searching high and low for TIKI II this year also (the very first RL24 dad built under the house) unfortunately they found it sitting without a trailer in Yepoon on a property and in a very bad state.