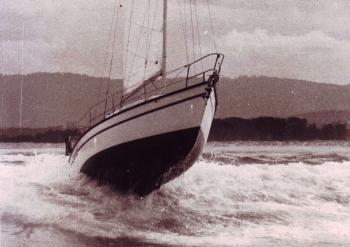 Tony.
Your boat would now be at least 30 years old, and I would question the condition of the fittings,rigging, sails etc, also would look carefully at the mast and boom for any sign of deterioration.

Replacement of all SS U bolts should be a priority as there had been a reported failure with them.
As far as the hull is concerned I have no reports of any problems as long as normal maintenance has been carried out over the years.
NOTE:: if by any chance you have an ex charter boat, they were built to a very high standard and the hulls were heavily reinforced, also had heavier keels and a reduced rig that would be suitable for short handed cruising.
I know of a modified 34 that has cruised to Norfolk Island twice and several others have made quite long coastal trips of over 2,000 Km, in general the boats are suitable for coastal cruising, although I personally would consider reducing the rig size and increase the ballast to make the boat stiffer in the water, also increase the water holding capacity.