Forestay Position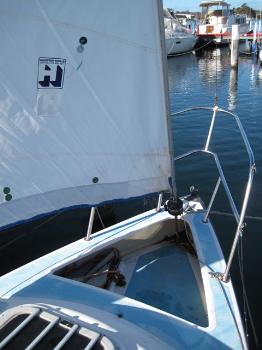 Hi Proud new owner of Rl28 #16.
Just confirming if my current forestay attachment point is the original design position .
If it is , what was the rationale of its positioning and method of strengthening to accept the load ?


Re: Forestay Position
Congratulations on joining the RL ranks. Your forestay attachment point is in the original position. No extra strengthening will be needed as there should be a plate under the deck and moulding to disperse the loads. The location allows sitting at the anchor well to change sails in safety while keeping the forestay back from the anchor.
The anchor well is one of the great features of the RL28 as it provides a safe place on the foredeck and lots of storage for anchor lines and is a favourite place for kids probably because they can get away from their parents.


Re: Forestay Position
Shane.
What Keith has stated is quite correct, also there should be a stainless strap joining up the bottom of your furler to the top inside leg of the stem U bolt, it should be visable from inside the boat.


Re: Forestay Position
Thanks for your prompt reply i suspected it was original , that would be consistent with the other items on the boat , one of the reasons i purchased Freyja.
To anyone's knowledge has crevice corrosion been an issue with either the chainplates or this forestay attachment point where they pass through the fiberglass ?


Re: Forestay Position
Absolutely! If in any doubt about whether the forestay or shroud U-bolts have been changed, then they should be replaced. There was some suspicion that there were flaws in the Ronstan U-bolts manufactured at that time. When I replaced mine, one snapped while undoing the nut without applying any excessive force.


Re: Forestay Position
Removed all u bolts and they appear in good condition , when re fitting I plan to seal with butyl tape on the outside only hoping this will allow oxygen from inside to prevent crevice corrosion.
As per the stainless strap Rob referenced , there is nothing joining forestay ubolt to stem ubolt if that is the one used to attach trailer winch cable ? Would you recommend fitting one ?