Rl28 cabin top thickness and construction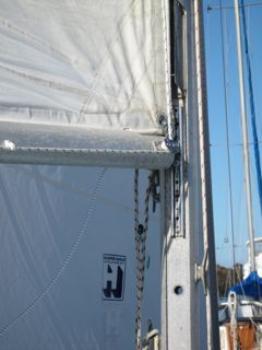 To assist my shorthanded sailing i am bringing all the controls , reefing lines and halyards back to the cockpit. So about to fit out my cabin top with a pair of Barlow #15 winches , some turning blocks and clutches . I have all the hardware apart from the through bolts and fixing's . I am a bit remote from where the boat is so cannot easily check the approximate thickness of the cabin top where they are to be mounted nor familiar with its construction.
I have spoken to a fellow RL28 owner who from memory guessed the thickness to be around 15 mm and composed of lamination / sandwich of Glass and ply .
The specific area i am interested in is immediately to port , in front of and to starboard of the cabin mounted traveller.
I would appreciate any estimations of this thickness as then i can be more prepared for the installation on my next trip to the boat . (11 hr round trip)

On another note i am a bit curious as to what the through hole , just below my gooseneck was used for , would it have been for some type of roller reefing of the main as used on boomerangs ?
I am thinking of using it as a way of attaching a gin pole for mast raising and lowering ?

Regards
shane



Re: Rl28 cabin top thickness and construction
Hi Shane I too wanted to move everything aft for single handing and have done so with no ill affects. My main halyard winch was mounted to the cabin roof but adjacent to the mast so i figured the roof should be strong enough at that point and as you say the traveler is mounted on the roof and takes a great deal of strain. from memory i think it measured at 12mm but that was 3 years ago.
No idea what the hole is for, I dont have one.
Cheers Martyn


Re: Rl28 cabin top thickness and construction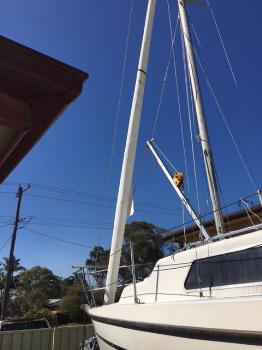 I just fitted winches and new clutches and remember the cabin top being thicker than I thought it would be. I seem to remember about 8mm so 12 should cover it. I'll be down on the boat this weekend so I'll try have a look. Big day, second race. Came last last time so hopefully things will get better.
My mast doesn't have that hole either. Here's a pic of my mast raising pole. The base of the pole just rests against the mast tabernacle on a sole plate that can't slip sideways. Pretty high tech really.


Re: Rl28 cabin top thickness and construction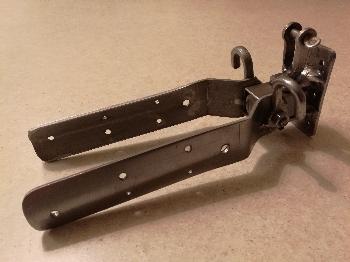 Thanks Martyn and Robin , any ideas on its construction ? Robin good to see you are getting some racing in , last is not a bad place to start , leaves plenty of room for improvement.
I have undertaken a full rig referb , standing and running as well as all controls to cockpit . It will get pushed pretty hard so will be glad of the new components.
Replacing the shorter spin pole , 2.4 m with the class 3 m , also have fabricated a stronger gooseneck and vang attachment fitting .
Hoping to finally have it ready to sail in November , but there will always be jobs to do . The trailer will be a big job but not needed till after the MPONR .



Re: Rl28 cabin top thickness and construction
Robin i would be interested to see how you organized your deck gear and controls if you have a photo ?
I am sorting 2 spin , 1 main and jib halyards , 2 clew reefs , cascaded vang , cunningham , outhaul , spin and main topping lifts also thinking of using the original winch located centrally to use as a crossover block for either of the other winches when reefing.
Do you have a sliding hatch ?
Do you commence you mast raising using an elevated crook on the aft end ?
Did you end up using synthetic rigging ?


Re: Rl28 cabin top thickness and construction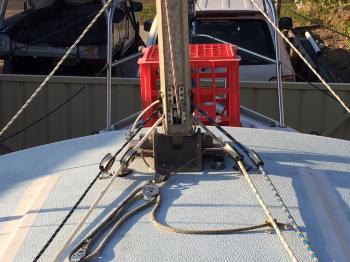 It's work in progress, similar to almost every other job I'm doing at the moment.
I haven't even addressed reef, cunningham, vang yet. I will eventually get cunningham, vang and outhaul (main) run back to back of cabin top. I have put new spinlock clutches (remember that fleeting BCF stock clearance sale) for halyards and re-used a couple of jammers for pole downhaul & topping lift. I fitted a couple of old Barlow 8 single speed winches as halyard winces left over from the other boat. Generally for simplicity I run my main and headsail controls on one side of the hatch (sliding hatch) and 2 spinnaker (MH & Hounds) & pole controls on the other. I deleted the organisers and run straight back at an angle from stand-up blocks either side of the exit sheaves on the mast for the halyards, less friction that way. I reduced spinnaker halyards to 6mm multibraid polyester and main & jib to 8mm multibraid. I feel these size ropes are more in keeping with the size of the boat and run more easily.


Re: Rl28 cabin top thickness and construction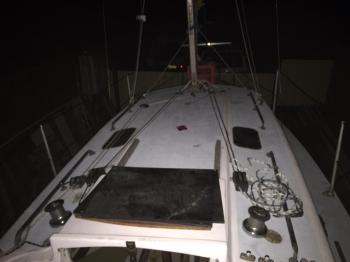 Another pic.
I decided against synthetic rigging when I did mine a year ago for some reason I can't recall offhand. It wasn't a strength issue though, more likely a durability thing, robustness being dragged around the place etc. As the boat currently is going to spend 90% of it's time on a mooring I don't regret that decision either.


Re: Rl28 cabin top thickness and construction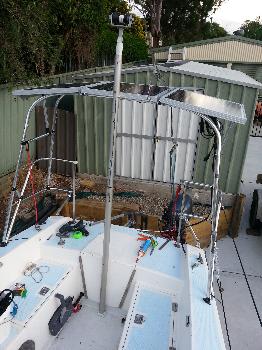 Not real exciting Jason. Basically a length of aluminium tube that fits inside another length with a few pre-drilled holes and a pin.
I have an occy strap to hold it against the solar panel frame and some wider diameter edge rollers now to help keep the mast on the roller but it does sort of roll back & forward now. Last time I forgot to replace the occy strap and busted the masthead light when the whole lot ended up on the driveway. I love boats !