Mast Rl 28
I am in the process of restoring a Rl 28 and it has been suggested by a rigger upon inspection that I replace the mast and consider going to a taller mast and sails when I do. Has anyone done this? Had any insights? Problems with weather helm and balance?


Re: Mast Rl 28
Keeley Marine made your original mast.

https://www.keeleymarine.com.au/

The standard rig is well proven.

If you desire to race with crew, you might want a bigger rig with a greater handicap, but if you are a cruiser with occasional racing, a standard rig will be best.

New sails on a standard rig are a nice thing to have.


Re: Mast Rl 28
A couple of questions
1. why did the rigger suggest a new mast ?
Mine over the years has had the exit blocks at its base refitted and corrosion was an issue so i have sleeved from base to gooseneck and moved halyard exits to a more modern approach ie simple slots well above the gooseneck to external turning blocks mounted at the mast step
2. what length is the mast ?
3. Greg , what do you consider "standard " my understanding is the ex charter boats had a shorter mast in comparison to the non charter boats , not sure if this is correct ?


Re: Mast Rl 28
Charter yachts had a reduced sail.

I doubt the mast was reduced.

For some reason, non standard rigs have issues. Probably associated with furlers and old sails.


Re: Mast Rl 28
Thanks for comments. Very much appreciated. I don't know a lot about masts. It had been painted previously and I took it to a rigger for examination. The feedback was that it was in poor condition for an eventual cruise up coast. It is the standard mast height 8.23 metres. The suggestion of the taller mast was that the larger mast and sails would then give higher performance in lighter conditions .


Re: Mast Rl 28
Shane, in the late 70s, I looked at buying a charter yacht. There was no mention of a shorter mast but some yachts may have worked with limited bridge clearance problems.

I'm not experienced with the RL28s. I tried to help others with rig problems but they were not prepared to restore their rigs to standard.

I'd be very reluctant to change the standard rig listed on this site.

If refitting an RL28 rig, I'd be adding lazyjacks single line reefing on the number 3 reef, slugs on the mainsail and full batton mainsail.

Furlers are a poor compromise on lighter fractional rigs like the RL28. A double forestay with twin halyards and downhauls would be my choice for coastal cruising. Or a headsail with reefing points.

I'd also stay clear of yachts that have been in survey, the extra ballast is for people who can't sail.


Re: Mast Rl 28
I have a history of racing performance dinghys and yachts. Before and since buying my 28 I have agonised about getting a larger rig. My sailing mates tease me and say sabots have larger mainsails than RL28s. Hey, why stop there. Drop keel, bigger sail plan etc etc.
Truth is you will still have an overweight, dated and overbuilt vessel. I bought my boat as a cruising boat, if I wanted a sports boat I would buy one.
I have heard of people who put 18foot rigs on these boats. Bear in mind that these rigs are designed to drive a planing hull that weighs a few hundred kilos, not a mighty RL28.


Re: Mast Rl 28
a previous owner fitted my RL 28 has an extended mast and boom, each about a metre longer.
She also has a traveler across the cockpit seats.
we only cruise in her but she is very quick, I guess we just have to put a reef in a bit before a standard rid would. I don't have any great issues with balance!
The only disadvantage I have found is the mast is a bit of a handful to raise and lower, but that is more an issue of working out a better method.


Re: Mast Rl 28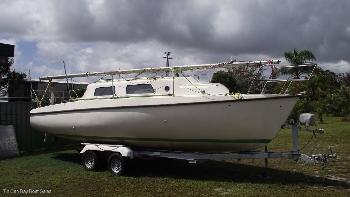 this pic of an rl currently for sale appears to have a shorter mast and no sign of upper diamonds