Rl 28 sailing and modifications videos
For anyone who is interested I have a collection of modification and cruising videos for RL28 owners at https://www.youtube.com/user/mdedman100

I have just included a video on adding ballast to a standard RL28 increasing the ballast ratio to 36%. Happy with the result and improvements in motion at sea, performance and stability.



Re: Rl 28 sailing and modifications videos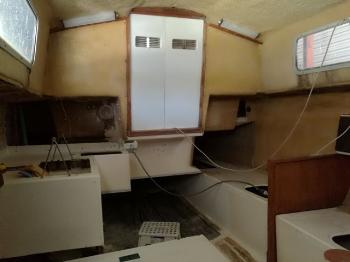 Thanks Mark , have been hangin out for your latest edition. Being in the process of preparing our RL28 i take great interest in the maintenance and modification made by others like yourself.
Not much left inside mine atm ! plan is to have her ready for MPONR in march.


Re: Rl 28 sailing and modifications videos
Looks like your having fun Shane. Good job though, its great to really strip the boat down to do the job properly. Hope you make it in time for the MPONR. I haven't got much sailing in recently due to brake issues with my nearly new trailer!


Re: Rl 28 sailing and modifications videos
Hi Mark
Have watched your vids with a lot of interest ,may pinch a couple ideas, currently have my 28 Eclipse out completely stripped out doing all the timber and electrical also paint freshen up ,she was ex charter at Nelsons Bay so has a few extras ,they say you never finish working on them but at least close to being back in water

Looking forward to more vids ,thanks for the effort!!