Galley water tank
Help I have a leak in the galley water tank on my'28. I really would prefer not to remove the panel in the actual galley area, should I cut the seating area the cover the tank, will that allow me access?


Re: Galley water tank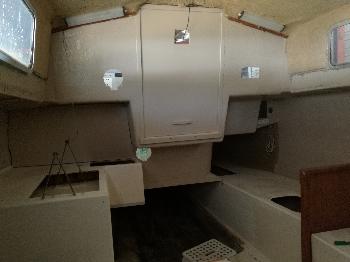 Hi Martin , I have recently removed the partial bulkhead that covers the end of the seat and gives access to the water tank , I removed it to open up the area and am very happy with the result , no plan to reinstall it.
I would not be cutting the seat to get to the tank if I were you , have you any idea where the leak is ?


Re: Galley water tank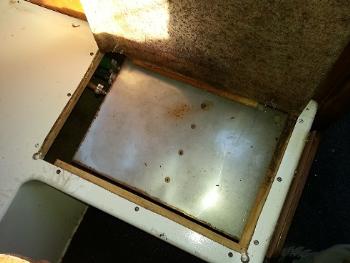 Mine was thus when I got it. I took it out to change fill & outlet hoses and clean it, apart from that no problems.


Re: Galley water tank
THanx Robin, that was exactly the photo I was looking for. Will go ahead with Glee and Gusto!


Re: Galley water tank
The previous owner of my boat completely removed the galley water tank and seat/b/hd which really opened up the area at the bottom of the companionway. To compensate he installed two 50ltr plastic caravan watertanks right aft under the cockpit where there is a great big void begging to be used. The tanks are linked together and plumbed to the sink via a two way valve which allows selecting either the aft tanks or the 100ltr tank under the v-berth.I have a 12v inline pump as well as a manual pump and when I need to empty the tanks I just run them into the sink and overboard.
I don't trail the boat with full tanks, but they do allow me peace of mind when cruising as well as being great ballast when sailing solo.
Cheers John


Re: Galley water tank
Thanks John, food for thought. I have a post on the end of that bulkhead which is very useful on entry to the cabin, but disregarding the original and mounting more back there sounds more attractive. I also have an advantage in that direction in that I have a hatch in the cockpit floor which gives easy access to that area!


Re: Galley water tank
I like that idea about opening up the cabin entry John except I use the backrest as a step when I climb inside. I was thinking of using the space under the cockpit to store the bodies of the people on TSP who annoy me but water tanks makes more sense.
Do you, or Shane, have any pictures of your designs ?