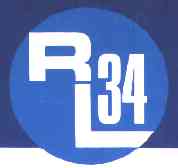 ---
---
WWW.RLYACHTS.NET

RL24, RL28, and RL34 Trailable Yachts
from Rob Legg Yachts
RL Yacht Owner's Discussion Forum
Return to the Forum List

RL28 Forestay U bolt sealing.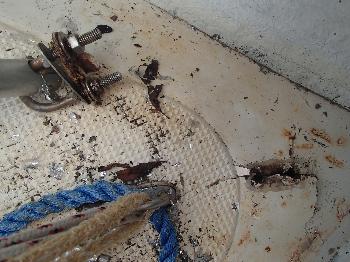 My RL28 has a habit of pooling water in the very forepeak of the anchor well, particularly around the U bolts. It's obviously been like that for years and that has partially caused a failure with my forestay. The sealant between the 'U bolt to deck' join has broken down with time and allowed water encroachment, and that's led to the rotting of the timber under the glass anchorwell. So, I'm flagging a warning to other RL 28 owners to check your U bolt sealing at the front, particularly if your boat also allows water to 'pool' at the very front of the well. This may need reinforcement. Since then, I've also placed a 10mm alloy plate under both U bolts to alleviate the load on the fibreglass alone.
It was a good thing I had a 'safety' backup rope on the inner U bolt just incase this particular failure ever happened. And it did! When the deck let go with a, not so loud 'bang', we were night sailing to Davies Reef. In fact it wasn't until we were returning home on a broad reach that we noticed the rig, 'a little looser than normal'.
The attached jpeg is a shot taken from directly above showing the holes left by the 'pulled' frd U bolt. Has anyone else had this happen to them?
Cheers Alex


Re: RL28 Forestay U bolt sealing.
Thanks for the warning Alex.
I'll have to keep an eye on mine, I don't have a safety.
The boat is kept on a mooring atm, last time I was there some bloody seagulls had nested in the anchor well.


Re: RL28 Forestay U bolt sealing.
When i first got my RL i questioned if this was the correct position for the forestay , see

http://www.rlyachts.net/forum.asp?ID=5633#ID5633

and was interested to read Robs comment

"What Keith has stated is quite correct, also there should be a stainless strap joining up the bottom of your furler to the top inside leg of the stem U bolt, it should be visable from inside the boat."

So if i understand it correctly the ubolt the forestay is connected to should have a strop or strap connecting it to the stem ubolt (used for winching on to trailer) inside , and not only relying on the ubolt through the foredeck and any plate under it ???



Re: RL28 Forestay U bolt sealing.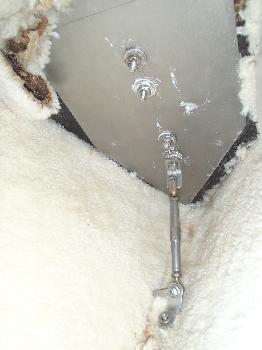 After my forestay failure, I did fit a rigging screw to connect the forestay U bolt to the towing U bolt at the same time I fitted the alloy strengthening plate beneath the anchorwell. I bought this boat secondhand about 8 years ago and for whatever reason, these fixtures were missing.
It might not be totally correct but you can get an idea of how I've done it and also maintained tension by using the rigging screw.
I've also drilled a small hole in the extreme bow to empty the pooling rainwater and that seems to be working. Cheers Alex


Queepeindubrili ifnsn
free games online slots http://onlinecasinogameslots.com/# - free casino games vegas world world class casino slots free online slots games http://onlinecasinogameslots.com/#

Return to the Forum List
Add a message to this discussion