Core
Hello, can anyone tell me what the deck core material is in an RL28?


Re: Core
Looks to me like some sort of ply, beyond that don't know.


Re: Core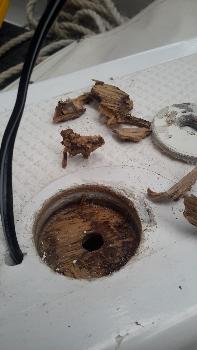 Plywood it is!
I'm in the process of removing the core in the deck where the pullpit bolts through to stop the core compacting when I bolt it down.
Was going to fill it with epoxy and Q/Cell (light weight filler) or should I be putting some chopped strand mat in it?


Re: Core
Epoxy filler should be fine. Plenty strong enough, all in compression anyway.