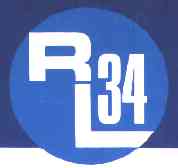 ---
---
WWW.RLYACHTS.NET

RL24, RL28, and RL34 Trailable Yachts
from Rob Legg Yachts
RL Yacht Owner's Discussion Forum
Return to the Forum List

Who has capsized?
Well I did it. When gybing at 20+ knots I managed to capsize Spudgun last Saturday.

Only had 2 on board, we were preparing for a gybe, the crew was up the front to change the pole over and we were hit with a gust and took off! Running out of water, I had to gybe. Of course after the crash we rounded up and the crew held on to the closest thing- the mast and she went straight over.

It surprised me how easily it happened. Being an old skiff sailor, I immediately swam around and jumped on the keel to stop it turning turtle. It was some time before she came up; with the full rig + spinnaker + mast full of water.

After almost losing the crew from the drift (saved by dragging sheets) eventually she came up. It was difficult to get back on board thankfully Spudgun had a simple boarding ladder or I would have had no chance.

Once away again we completed the race but opted for two sails only and ended up placing well. I was really pleased that very little water was in the cabin. If she had turned turtle I think she would be gone.

I understand that Rls are known for capsizing, it has been suggested to me that it is the lack of flared gunwales. Anyway I'm sure there are some of you that have had a capsize- I'd love to hear your story.

Cheers


Re: Who has capsized?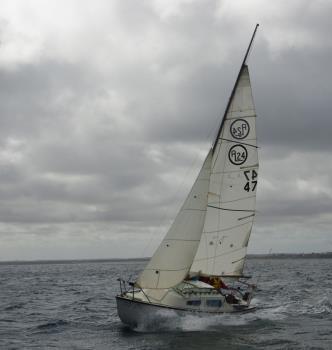 We did it under similar circumstances... 20- 30 knots, racing. Boat stripped out big squall with spinnaker up, two up... i went forward to drop the spinnaker (big mistake- should have dragged in under boom) nose dived in a steep big short chop. Both crew separated from the boat, all sheets cleated. Impressively Spiral Navigator stood up and went over about 8 times before the course boat delivered us back and I eased the spinnaker halyard. No water in boat, no sign of turning turtle.
Leanings:
1. ALWAYS lock down the center plate! ( we had done)
2. Practice dropping the spinnaker into the cockpit keeping weight well back
3. Sail with the storm boards in as soon as your planning (we had done)
4. Ensure that your boat floats full of water (do the maths- you dont have to sink it) you may need to add sealed voids or foam depending on how its been fiddled with ( we did).
5. Adjust your sail area early - reefs, cat rigged, carrying an extra smaller spinnaker are all options
6. make a boarding rope boarding ladder that works when the boats on its side as well as upright and is accessible form the stern.

We sailed the Whitsundays in 25 Knots + for days on end with small kids and had some wild days on Port Phillip, Gippy Lakes and in the 'round French Island Race.We can get to windward in 35 knots with no jib and lots of traveler and two reefs. We are comfortable over 10 knots and get pretty focused over 12 to 14 knots boat speed.
One of the RL24s greatest safety attributes is that they are really responsive and sail beautifully ( when sailed cleverly).



Add me to the list of shame too
It was not a true capsize but we did lie our RL24 boat almost flat on the water when sailing in strong wind with an RL28 spinnaker. I had a '28 being built at the factory at the time and purchased the spinnaker early and thought we would give it a try on the '24. My wife was not strong enough to hold the tiller in the winds, the boat broached and over it went. A quick dump of the spinnaker and it came up on its own. The brand new sail got wet but fortunately not torn. Quite exhilarating really but we have been very careful on all subsequent boats to never be so gung-ho.

Return to the Forum List
Add a message to this discussion