Will have RL 24 parts in the US Chicago area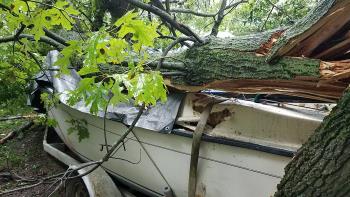 OK, the very sad news is, last night a storm took out a large Oak tree branch which crushed my RL24. At some point in a few weeks, I may have RL24 specific parts available. The mast is crushed. The cabin is crushed. I suppose the amazing part is, the boat is still holding up several 1000 lbs worth of tree.


Re: Will have RL 24 parts in the US Chicago area
That is tragic!
I also have an RL24 Which is located in Washington state. Iím interested in some parts once you are ready to consider parting out. I may have a road trip from Chicago to Washington to move my girlfriends mother out west in the next few months. Specifically Iím looking for a swing-up rudder and a mainsail (plus I have a few questions about American made RL24ís in general). In the meantime- condolences!
Ernie


Re: Will have RL 24 parts in the US Chicago area
I should find out tomorrow as to what is left of the boat. My brother-in-law is thinking about turning it into a little put-put that he can use on the lake near his home. This means all the sailing specific things will not be needed, but the cleats on the hull will stay with it. We won't know for sure what we are going to do with it, till it gets out from under the tree. I will have the boom and the sails. They are certainly used, but I think the term serviceable condition would apply. Lazy jack setup and mast hardware will be available. I made hatch boards out of plastic garage trim boards, so those are in good shape. 4 slats with overlapping joints so they are waterproof. I got one of the port windows out. The other one is sagging, so I don't know if it will recover or not. The front hatch currently is OK - I've heard of people loosing these over the years.
There are some YouTube videos of the boat under sail - user name Daveinet. You should be able to kind of see the condition of the sails.


Re: Will have RL 24 parts in the US Chicago area
So here is a question - Since the boat will not longer sail, We may use it as a putt-putt. Under sail, the hull is designed to plane fairly easily. Does this mean it should plane under motor power as well? Or does the gas motor change the angle of attack too much to get the hull to ride up over its bow wave?


Re: Will have RL 24 parts in the US Chicago area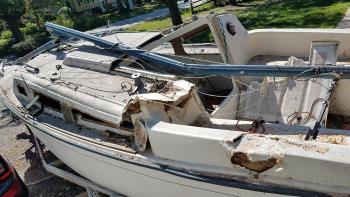 Just one pic of the damage, now that the tree has been lifted off. The hull survived just fine. Seriously, it does show how tough these boats really are considering the tons of weight it was supporting. When they lifted the main branch of, one leg of the 28 ton crane actually lifted off the ground.


Re: Will have RL 24 parts in the US Chicago area
Sorry for your loss, Daveint. Yours were the first YouTube vids I saw of an RL24 sailing when I was given my boat. Am I correct that these U.S. "Cruiser" versions don't have much, if any, in the way of cabin and deck core? Could you post what core there is and where? I appreciate your insight to our version of these boats.

Thank you
Joe Eckenrode


Re: Will have RL 24 parts in the US Chicago area / DESIGN ISSUE (American built)
There isn't really any core anywhere in the boat. Technically there is a wood plate under the mast step that is about 1 inch bigger than the step. There are a few other places where there are ridges to be built up that have a wood strip filler, but it is only fill and adds no strength.

There is one design flaw that exists with the American built boats. Between the floor in the cabin and the hull there is a cavity. This cavity has a wood filler board about 2 inches thick. The issue is that this is a blind cavity with no access. The issue is that if water gets in there, you have no way of getting it out. The wood absorbs water and rots. Rob Legg said this wood is only filler, so don't worry about the rot - its plenty strong. The glass there is about a half inch thick. The problem is that since you can't get the water out, it freezes and cracks the hull along the side of the keel trunk. This happened to my boat before I got it. The second issue is that this soggy wood adds considerable weight to the boat slowing it down. Adds unintentional ballast, but makes it slow. I had my boat out in 30 mph winds and found it to be plenty stiff with full sails up. IF this area was just a hollow space, you could drill into it and pump it out. However since it has wood filler, it is a soggy mess with no good solution.
I hope to find another RL to replace it with, however I'm not sure how to address this issue. I'm thinking I may have to drill a hole in the bottom of the hull to let it drain over the winter every year. I don't like the idea of putting a hole in the bottom of the boat, but what else can one do? Secondly, whatever I do to plug the hole will likely mean drag on the bottom of the boat.


Re: Will have RL 24 parts in the US Chicago area
Thanks for the info on the core. My American RL which is like yours has no wood under my floor, I ran an inspection camera up the cavity along the centerboard trunk. One side did have a spot about 1 ft packed full of marine filler, I figured someone grounded and got a hole. This was away from the centerboard trunk. I had a thought to drill through the floor on both sides at an angle through the filet at the trunk and thread plugs in there. That is the lowest point on my boat when it's on the trailer. However I'm looking at putting a small diaphragm pump on a timer and running lines under there like described over on Panbo for keeping a dry bildge. I'm happy to hear you liked the RL enough to look for another over here. Thanks again and good luck boat shopping.


Re: Will have RL 24 parts in the US Chicago area
Ya, I'm one of those guys who can never buy anything that is common. I ride Pacific Coast (PC800) motorcycle, I've bought Jeeps all my life, for 16 years I owned a custom front wheel drive Revcon motorhome. If it was enough to have FWD in a motorhome, I turned around and dropped a fuel injected 502 in it and switched out to a 4 speed trans. It would smoke the wheels off the line and chirp going into second at 50. If I do buy anything that is normal, its not normal for very long.
So the RL just fits the bill very well. Its quick, light on its feet and responsive. Not too big to single hand, not too small to be cramped or unsafe. The only other boat I could consider would be a Farrier tri, but those are priced out of my league.
I'm curious what vintage is your RL? Is it a 2 window or 3 window cabin?


Re: Will have RL 24 parts in the US Chicago area
Mine is the 3 window. I found it interesting that maybe there were 2 different types produced over here. I talked to at least one guy here with the 2 window and open bow. So I always took to calling the 3 window a "cruiser" version. I'm currently scraping the ceiling of its flaking 3 layers of paint and one layer of glue to make the cabin safe to go into. Right now it sheds.


Re: Will have RL 24 parts in the US Chicago area
One of the most interesting things about my boat is that it was titled as a 1990 as a home built, rather than a factory build. It did not have serial numbers anywhere on it. I took a wild guess that is may have been a leftover hull from after the factory went out of business. The fit and finish was good, but there were a few minor dissimilarities from photos I've seen of other boats. Just hints that is may have been fitted out by someone other than the factory.


Re: Will have RL 24 parts in the US Chicago area
Hi I am very late to this party but I have an RL 24 here in Saskatchewan. I suspect the parts are long gone but I would love a mast step tabernacle. My. Boat has been onthe hard for years and when i got it it had lost its mast and had a mast from an Aquarius 23 half installed. Discussions on this forum with Rob Legg many many years ago suggested the original mast was tooheavy but the one i have now is even heavier.