Looking to buy
Hi all,
This is my first entry into this forum.
I have identified the RL 28 as my next boat and I am looking to buy the 'right' one, if I can find it.
We have a dearly loved Southern Cross 23 but as I am getting older im looking for a bit more room and comfort
I intend to ask numerous detailed questions but for this post I will limit myself to asking about the preference for either inboard diesel or outboard 4 stroke..
Any obvious pitfalls or areas of knowledge I should have
Does anyone have a an RL for sale
With thanks
Alan


Re: Looking to buy
Hi Alan,
The choice of motor depends on the proposed use of the boat. If you need to do a lot of motoring, a diesel is way more reliable and uses less fuel, but there were not a lot of RL28s fitted with diesel motors so you might have trouble finding one.
The outboard will be noisier and have a shorter life but they are easily changed and if you service it yourself can be a much cheaper option. Great for getting in and out of the harbour or boat ramp but not so good for hours of motoring.
Also the diesel is a lot heavier which can affect the '28 sailing performance by adding too much weight to the back of the boat.
There is a real shortage of RL28s for sale on the Buy and Sell page - usually there are quite a few there. All I can suggest is keep watching there and try some of the commercial sites such as YachtHub.com.au and BoatSales.com.au.
Good luck with your search. If you can find a well cared for one, they are a great boat.


Re: Looking to buy
Thank you Keith for your advice
I believe that I would prefer a modern four stroke outboard as they have all the advantages you mentioned but are quieter, more fuel efficient and more reliable than the old two strokes.
I'm also concerned about slight diesel fume smell that always seems to be associated with inboards.
I imagine that the prop makes it more difficult to go stern up to a beach.
Is any contributor familiar with a boat called Pendragon in Adelaide?
Can anyone give me the length of the bunk in the V berth and in the saloon?
Again, any information for a prospective buyer is greatly appreciated
Al


Re: Looking to buy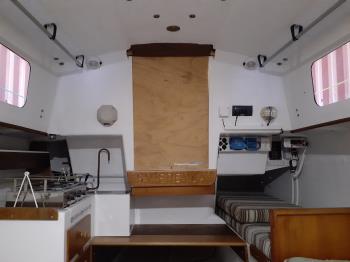 Hi Alan
Welcome , you have come to the right place for more room and comfort
We purchased our rl28 and the first test i performed was check the berth length and was pleasantly surprised at the size of the rl28's berths.
I removed the small bulkhead dividing galley & saloon and ice box / step which really opens up the cabin and suits our purpose.
1900 x 1100 stbd saloon
1900 x >700? port saloon
2000 x >750? port pilot
1 1/2 vberth plenty long for one tall person but due to the odd shape not that long for the 2nd person in fact the vberth in my boomerang 20 is bigger .
We recently spent 2 weeks aboard and loved the layout


Re: Looking to buy
Most boats are fueled by gasoline or powered by a battery-powered electric motor. Diesel engines on most miniature ships are the exception. But when the hull length gets past the 10.6-meter (35-foot) limit, there are dramatically more engine options in terms of fuel used. I love gasoline engines. The main advantage of a gasoline internal combustion engine is its compactness and low weight, compared to diesel engines of the same power. In addition, gasoline engines are quieter and produce less vibration. I have rented many yachts because of the yacht rental near me https://www.vistayachts.com/ . Every weekend, I take a j456 with a gasoline engine and ride with my family.


Re: Looking to buy
Afternoon Alan
We have a RL 28 for sale, diesel engine and registered trailer.
Cheers Wayne