The following story was published in "Cruising Helmsman" in June 1990. I have edited it so that it reflects the current situation (speed limits, place names, regulations etc).
---
THE MYALL LAKES
There is hardly a better place in Australia for a summer holiday than the Myall Lakes. By boat you can enjoy all that this area has to offer,
rainforest, heathland, tall timbers, ocean beaches, sandy swimming holes and 10,000 ha of shark-free waterway to get lost in.
From the sixties to the seventies a conservation battle was won over the developers and the sand miners. Saved was the largest fresh/brackish water lake system on the N.S.W. Coast together with its surrounding natural bushland. Mixed amongst a few campers are 266 species of birds. The lakes have six species of fish found nowhere else. There are dingos, wallabies, possums and a full range of scary reptiles. It belongs to Australians now so treat yourself to a real wilderness.
Ocean-going boats can enter the lake system through Port Stephens and the Myall River. The lakes are most crowded during the summer school holidays. Outside this period you can have the whole place to yourself. Whilst there are plenty of "great to be alive" days during winter, cold water temperatures and strong westerly winds put most people off.
I had spent over a year fitting out my RL28 yacht and the family was as anxious as I was to wet the boat. The ramp at Little Bay in Port Stephens, because it is close to the open sea is a favourite with runabout fisherman. It is protected from the NE and South, has lots of parking and 4 boats at a time can be launched. It does, however, suffer from sand building up on the concrete. Today a 25 knot westerly meant no go. We backtracked the extra kilometres to Soldiers Point ramp where it is a little more sheltered.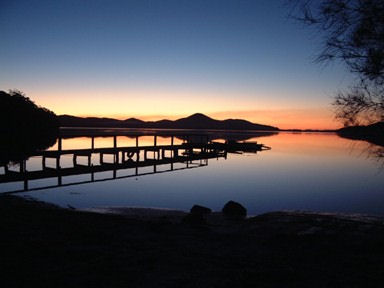 Here 2 to 3 boats can be launched at once, protected by a short rock wall, but regrettably the wind and waves were too strong. While we were thinking, a big runabout was launched by powering off the trailer. In five minutes he was back looking for his trailer. It was not a fun day to be on the water. There was of course the usual guy with the motor that would not start, battery flattened from trying, cover off, rope-pull working, spanners at the handy, disgusted spouse, the whole miserable story. If I could only get into the water I could be in the safety of the Myall River in 20 minutes. There is a small ramp on Wanda Beach next to the "Port Stephens Sailing & Aquatic Club". The water in front was a mill pond. A 25' sailboat was being launched and if he was game so was I. A tap at the clubhouse provided 180 litres of water for the tanks.
The launch was blissful, so with seven adventurers on board we were off across Port Stephens, dinghy in tow, for 3 weeks on the Myall Lakes. The wind was in the rear quarter and would have made a fabulous sailing run but, for a reason that I will have to confess to later, I did not utilize all the free energy.
For 3 miles the dinghy did a mad dance, the yacht rolled about, bottles fell over, and the children (5 of them) made representations for sustenance. Just north of Cut Feet Island the river narrows and shallows. Ocean going yachts occasionally run out of draught here. We surf down the wavelets, and shot between the port and starboard beacons. Above an eagle, wings agape, falls ever windward. Life is good. Hopes are high.
Draught is the major consideration for any boat using the Myall Lakes or Myall River. With a draught of less than a metre you will not even know that there is a bottom. With a draught of up to 1.5 metres you can expect to bump bottom several times on the trip. Vessels drawing up to 2 metres will need to travel at optimum times and will need some determination to make it to Tamboy. The river bottom is soft mud and sand with weed. The water is muddy with visibility of about 0.6m.
Hawks Nest the "Singing Bridge" and a 4 knot speed limit are ahead. Clearance under the bridge is 10.6m and is the other limit for larger vessels. I ran out of money before I got the mast so "Splash" has no trouble ducking under. Hawks Nest and Tea Gardens are towns on opposite sides of the River. There are jettys and sandy beaches to tie up to. Last chance for food, water, fuel and restaurants. Fourteen miles of the Lower Myall River lie ahead. This section of the river is a "No Wash Zone" with some sections having an 8 knot limit, enforced by the Waterways Authority.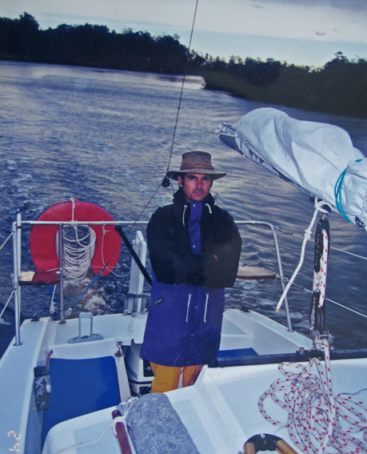 My 10 hp Yamaha 4 strike outboard, still being run in, pushes its 2.9 tonne burden at 5 knots 3/4 throttle. We are passed often by boats on the plane. Boats making a big wash cause undercutting of the banks and whole trees fall in. Watch out for snags, keep to the centre of the river on the straights, and to the outside of the curves. Up to about the Pine Plantation the water is tidal and salty. Here there are mud flats, sandy beaches, wading birds, dolphins and possibly sharks.
Power lines cross the river at the Pine Plantation and are 14.8m above MHWS. The river is too dark and dangerous to travel at night. This is when professional fishermen put their nets across the river the catch prawns. Their prawn "shots" are visible as poles sunk into the bank usually with an accompanying hut. The banks are lined with tea-trees, cabbage tree palms, she oaks and gum trees. There aren't all that many places to go ashore as the area is low lying and swampy.
The strong wind reminds me that it would be better not to enter the first lake, so I decide to spend the night on the river. We switch off the "iron spinnaker" at a wonderful camp-site just north of the Brasswater. The boat is tied up fore and aft to trees on the bank and a anchor is put out the side. The current here is always downstream. A high tide is indicated by a drop in current speed, a stilling of the water but rarely a reversal of direction. Downstream off Kangaroo Island the water does reverse direction so an anchor fore and aft is required if no trees are available.
Five of us are sleeping on the RL28 and two ashore. A tent goes up over the leaf litter of gums and she oaks. Ivy leafed violets sprout from the soil amid lichen and orchid covered branches. We set 3 fish traps to work overnight. People pass quickly by in boats. In the dying light professional fisherman move to their spots along the river.
The call of the birds brings consciousness to the morning. White paperbarks reflect in the quiet but moving river. Our traps are empty but no doubt certain fisherman are thousands of dollars richer as they take boxes of cooked prawns to the market. Tamboy is a village of professional fisherman. It looks overcrowded as they mass for the prawn run, peaking about February.
Port and Starboard markers lead us out of the Myall river into the first of the Lakes - Bombah Broadwater. There is a low training wall just under the water joining the channel markers and taking a short cut here is instant disaster. This is the best lake for prawns and fishing. I notice some unfamiliar marker and buoys and realise that we are approaching a restricted boat racing zone. The "Mungo regatta" has been held off Mungo Brush 3 days from Boxing Day every year since 1909. Mungo Brush is a large camping area accessible by car and supports a dedicated group of campers who like crowds, tents, caravans and ski boats. This is one of the many camping areas at which The National Parks collect a fee for camping. At Mungo there is a rainforest walking trail and walks to Tamboy and the ocean beach.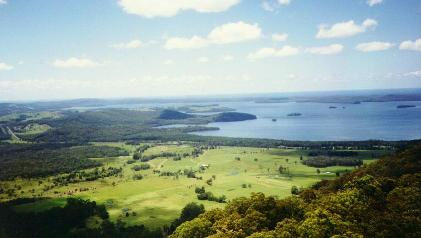 In Bombah Broadwater boats can be launched at Nerong, Mungo Brush and Myall Shores.
There is a graceful camp-site at the mouth of the Upper Myall River known as "River Mouth". Here one can camp under big gum trees and watch the river traffic while being yourself watched by the resident goannas. Most campsites have resident possums and goannas. They will chew through canvas, paper, cardboard and plastic bags to get to your biscuits, bread and fruit. Our two favourite campsites, Stony Point and Sandy Point are suffering a weed problem so we decide not to camp. The lake has a lot of ribbon weed growing on the bottom. Wave action and boats chop a lot of it up. Also a lot is dragged ashore in prawn nets. Washed ashore it lies to "ferment". This is why there is sometimes a methane smell in this lake. While checking out Stony Point we decide to drag the prawn net. Something odd happened. I was standing in the water when my feet sort of wobbled about. The first thing I thought of was an earthquake. I dismissed this improbable theory and resigned to the even less attractive proposition that I was getting old and my legs were having an uncontrolled twitch.
Many boat charter companies consider Bombah Broadwater a day lake only and don't allow an overnight stay. There is too much wind for our liking so we move on to Myall Shores. Here there is everything for the caravanner and tent camper. Toilets, showers, a shop, phone and petrol (take container ashore). My eye registers that there is a very long queue for the telephone. Someone asks if I know that Newcastle has been wrecked by an earthquake. My legs are OK. Lots of people are leaving for where their homes used to stand and to check on loved ones. All my loved ones are aboard so its into Boolambayte Lake.
The few small anchorages here are crowded so I head for an old favourite, Boolambayte Creek. The entrance to the creek is almost invisible. The creek is deep, but snaggy and overhung with trees. Some big cruisers and a few trailer sailors are in residence. We tie up to the bank in blissfully peaceful water. The wind outside is still blowing 15-20 knots. The camp-site is big enough for a thousand tents. The trees are tall straight gums and paperbarks. The ground is level and dry, and there is no rubbish. The creek water is black from the soil and reflects perfectly the idyllic banks. Around meal time the resident thieving kookaburra does his begging and makes his swoops. This is probably the nicest camp-site on the lakes but has no swimming. We make occasional sorties out into the Lake for swims. That night we meet some of the other boaties. One has been coming here for 16 years (and someone pinched his favourite spot). Another from Victoria shows me his list of 39 bird species so far spotted. We must be near to the heart of paradise.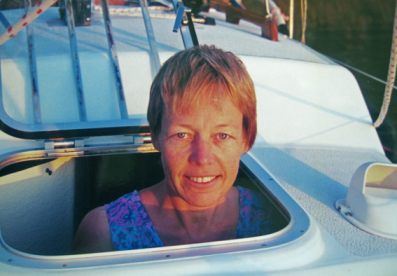 Next day on the way to Violet Hill I keep pace with another RL28. We are both doing 5.8 knots. My 10 h.p. Yamaha outboard seems to match his 15 h.p. Mariner two stroke although there is no way of knowing if he is flat out. Unlike him I am towing a 14' Quintrex heavily loaded.
Violet Hill has camping, water, showers and a boat ramp. It is a favourite with water skiers and is a good place to enter the centre of the lake system. The swimming is not so good. Nearby Johnsons Beach has good camping, swimming, shelter, bushwalks and water skiers. We are now entering the Myall Lake. This is the biggest, wildest, clearest and most sparsely populated of the lakes. We will spend weeks here swimming, reading, eating and windsurfing. We have come at the most popular time of the year and all the good spots are crowded. We find a blissful campsite and half an hour later 16 boats from the Newcastle and Hunter Trailer Yacht Association anchor beside us and make preparations to roast a whole pig on a spit for New Years Eve. Next day they hold a yacht race the "Bungwahl Bucket" proceeds to the earthquake relief fund.
Neranie Sands is starting to look like a city with 30 yachts enjoying a kilometre of sand. Just before dark a 40 knot southerly is announced over the marine radio. Half the yachts head for Neranie Bay and the rest to Kataway Bay and Long Point Bay. Our guests camping ashore wave goodbye and must really wonder what they are in for. I drop the Bruce anchor on a 30 to one scope and run a stern line to a tree. One cup of coffee later we hear a tapping on the cabin sides. It is a tree. The Bruce has dragged. I wade out and re-set this impossibly expensive piece of ground tackle and add to it a "flying flook" anchor. The flook is amazingly good in sand.
Following a particularly wet winter the Myall Lake is almost fresh enough to drink. This freshening of the water put the fish under stress and killed tens of thousands of them. They became susceptible to a fungus disease and for months their dead bodies lined the lake. Their dried out bones are still a threat to bare feet. Also the sand is slightly green and supports some type of algae. This is a temporary problem. It prevents the sand from packing down hard and this has something to do with my anchoring problems. The Bruce digs deep but does not have the fluke area. The RL28's chartered in this area carry a plough and an admiralty pattern anchor. The latter though a nuisance to carry, launch and retrieve is very effective in thick weeds.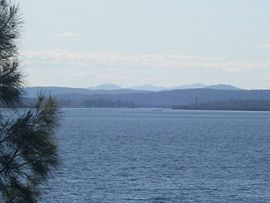 The winds came and went. Our guests were seen back to their vehicles. We were no longer committed to anchor off a campsite. Boaties again, we headed for sand, shelter and isolation. Skins darkened, minds relaxed and the family grew to appreciate each other.
The western and north western areas of Myall Lake have rocky shorelines and a muddy bottom. It is not easy to go ashore, although there are some good pockets of rain forest and good sailing water. The south eastern shoreline from Tickerabit to Neranie Sands is sandy and blissful. Weather reports and warnings are issued regularly and on request from either "Coastal Patrol Port Stephens" or "Coast Guard Port Stephens", coastal patrol Tamboy is the easiest station to contact. Holding tanks and porta pottis can be emptied into the sewerage barge "Independence". It can be contacted on 27 M HZ radio as it moves throughout the lake system. There is no charge. Boats anchored off developed campsites are deemed to be using the facilities and may be charged a camping fee. Camping anywhere around the lakes system can incur a fee. Boat users are not charged a camping fee. With food getting low we decide to travel back through the lake system and up to Bulahdelah for a shopping spree.
Conditions on Bombah Broadwater were again rough. A 25 knot nor-easter had pushed up a lake full of 1m waves, closely spaced. Deciding not to linger we surfed and rolled, to Tamboy. It was great fun and the sumlog wiped off the cobwebs around the 8 knot mark.
Whilst tying up to the trees in the Myall River a rotten branch broke off near the water line. Inside were two whopper toredo worms. They eat wooden boats. All was peace and I was about to put down the fish traps when a distress call came over channel 88. No one was answering and when he called for any boat in the vicinity of Mungo Brush I answered. He was in a house-boat and had gone aground. I thought for a while and decided to unpack the dinghy and have a look. With the light failing I said goodbye to the wife (as I may not be back). Wetsuit, life-jacket, ropes and hope, I headed into the punishing chop. My 25 year old Quintrex 4m open runabout pitched, rolled and yawed its way to a houseboat wallowing in the shallows. Coming alongside I was met with little enthusiasm. The only person on board who could speak English said yes he was making a call on 88 but only to try the radio out. He denied saying that he was aground. I was reasonably certain that I had found my phantom caller (who had not given the name of his boat when asked on the radio). Just to be sure I went on to Mungo Brush and checked that the 2 houseboats there were OK. Running with the swell I must have looked more like the sweep oarsman on a Bondi surf-boat. It is good fun if your heart can take it. Re entering the Myall River I saw a rare if not unique sight - dolphins in the Myall Lakes.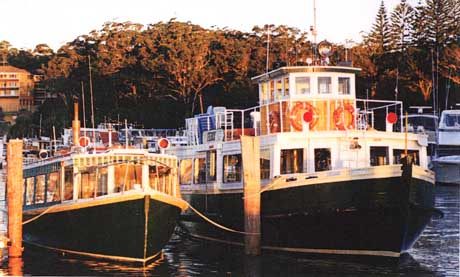 Two days later they were seen in the middle of Bombah Broadwater. The water in this lake was as salty as sea water. I wonder if there were sharks too.
During the night the mosquito coil went out and I was awoken by a big "hexham grey" revving his engines for the kill. In the morning we discovered the roof of the boat covered with ants. They came aboard along a mooring line tied to a tree. I cut off their escape and gave the children permission to rap dance on the roof.
It was time for reprovisioning at Bulahdelah. Bombah Broadwater was placid and while crossing it I noted that one channel marker was missing and others bent over almost to water line. Big houseboats driven by novice skippers are the usual culprits.
Before entering the Upper Myall River, Nerong Creek is passed. This is a deep wide creek leading to a boat ramp at Nerong. This ramp would be the first one encountered if travelling from Sydney and leads directly into the lake system. Earlier charts showed this creek to be shallow so it was not entered very often. The water is about 2.5 metres deep and almost black from mud. It is a quiet place with a generally rocky and unfriendly shoreline.
There are no speed limits on the Upper Myall River. The river is wider and eventually opens out into farmland as you approach Bulahdelah. A small boat ramp is located on the upstream side of the Pacific Highway Bridge. For security, cars and trailers can be left in the car park of Myall Marina for a small fee. Boats of all sorts can be hired here and the town has a butcher, baker, supermarket and fast food. Petrol is available at the Marina. It is a long return journey but the river is a very quiet place to spend the night. Just like home. There is no perceptible current flow.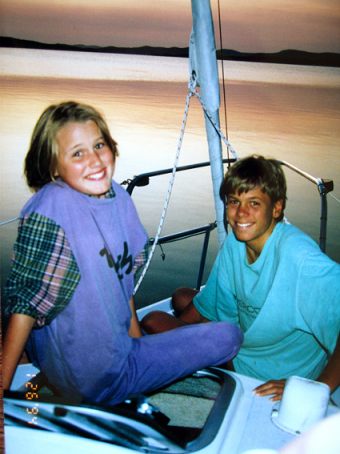 We spend half a day at Mungo Brush joining in with the Discovery Ranger Program. Bird-watching, canoeing, bushwalks and camp-fires. For the weeks following Christmas, activities are organised for whoever turns up. Mungo Brush at the time of our visit was part way through being "revamped" by dozers and graders to improve the interaction of cars and campers.
The chaos and multitudes were a bit much so we fled to the top lake for some much needed tranquillity. Here balmy days were passed swimming, sailboarding, fishing, reading or just watching the light reflect off the water onto the overhanging white paperbarks. The world could be a very long way away - except for the air waves. The 27 M hz radio was living life in the fast lane. There were boats going aground, some taking water. A boat off Soldiers Point, we were warned, was floating submerged - a hazard to navigation. Peoples' whereabouts were sought in connection with unspecified crises at home. One unlucky sailor we met told home he was not to be contacted unless there was an earthquake. And then we heard that 5 children had drowned when a Steber 36 cruiser in Port Stephens capsized with 49 people on board. My daughter is 7 years old. We explain to her what had happened. Kate for the first time tries to understand what death is. One of the drowned children was her school mate. Our two sons also grow a little. Their sailboarding skills develop. We teach the boys, aged 10 and 12 years, the card game "500". As soon as the dishes are washed at night out come the cards for some great family entertainment.
When home time came it was accepted as inevitable. Now run-in the Yamaha pushed us at 6 knots, slurping 3 litres of petrol an hour. Our fourth crossing of Bombah Broadwater was typically bumpy and I came to the conclusion that it was not a good lake to be in if the wind exceeds 15 knots from any direction.
Back in Port Stephens the boat ramp at Little Bay had good protection and our trailer sailer was put ashore safely.
We came home to a city destroyed and a town in mourning. It was a good time to have been on holidays.

The Hydrographic chart for Port Stephens is AUS 209. The hydrographic service does not produce a chart of the Myall Lakes. The "Boating Guide to Port Stephens and the Myall Lakes" is a chart of the waterways. If you would like a copy E-MAIL The Port Stephens Visitors Centre (info@portstephens.org.au) with your request and they will issue you with instructions on how to get a copy. The chart will cost about $5 on waterproof paper, plus postage. 38000 copies have been sold since 1988. It is updated about every second year. The Port Stephens Visitors Centre can be phoned on 1800808900.