---
51st National Championships
The 51st RL24 National Championships will be conducted at Port of Yamba Yacht Club, Yamba NSW in January 2024.
Please find below:
51st Nationals Sailing Instructions
and
---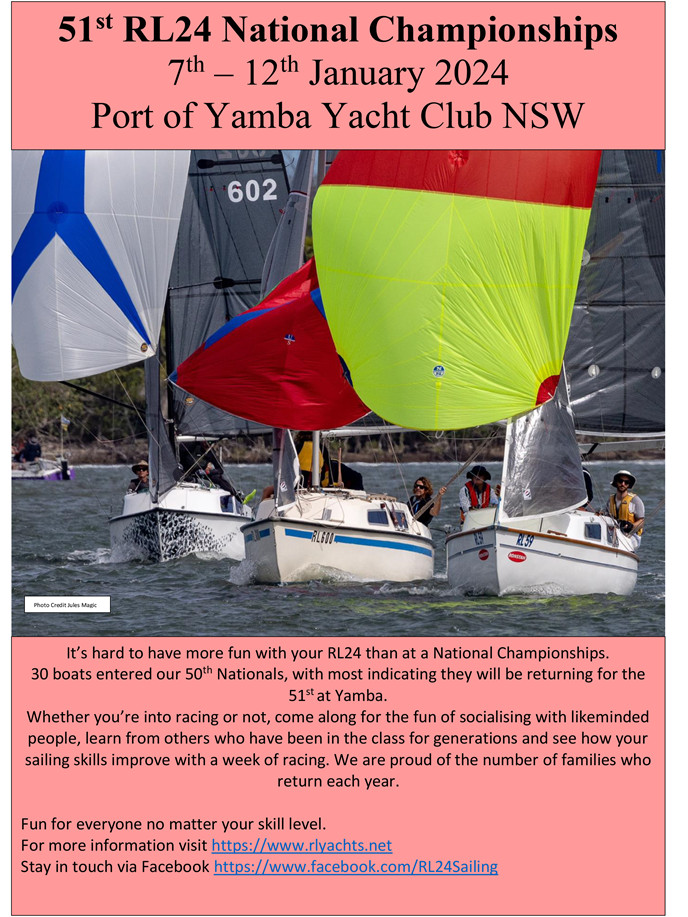 ---
CURRENT NATIONAL TROPHY HOLDERS
2022-2023 Season
SOUTHPORT YACHT CLUB - Hollywell Squadron
Trophy

Boat Name

Skipper

SK Championship

Whatever

Darryn Dyer

DK Championship

Ohau Rua

Simon Walsh

Overall Handicap

Steel Away

Paul Harris

Coolibah Trophy

Ohau Rua

The Sting

Cosmic Sedso

Simon Walsh

Lloyd Graham

Paul Corben

Rob Legg Invitation Trophy

Costalot

Damien Van Deudekom

Oldest Skipper Flag

Ruby Jay

Bill Asher

Bruce Castles Participation Trophy

Tim Jackman

Toad of Barmera Trophy

Dodgy Vindaloo

Tim Jackman
---
NOTICE of ANNUAL GENERAL MEETING
The AGM for the RL24 Owners Association of Australia Inc. will be held on:
Tuesday 10th January 2023
At 6.00 PM in Southport Yacht Club - Hollywell Club Room
The Agenda:
Opening
Apologies
Minutes from last AGM
Matters arising from the Minutes
Correspondence
President's Report
Treasurer's Report
Election on Officer Bearers for 2023-2024
Business arising from submitted Motions
General Business
Announcement of Jan 2024 51st Nationals Venue and dates
Meeting Close
---
---
2021 Nationals - Cancelled
The 48th National Championships that were due to be hosted by the Colac Yacht Club in early January 2021 have been cancelled due to unresolvable issues.
Full details are here
---
---
47th National Championships
47th National Championships
You're Invited
Come and join your fellow RL24 sailors for the
Rob Legg Invitation Series (Sunday 5th Jan 2020)
AND
The 47th National Championships
(Monday 6th – Thursday 9th January 2020)
The NOTICE OF RACE is attached.
Venue: Illawarra Yacht Club, Wollongong, NSW.
Contact: Colin Boylan 0427 273084
View:
NoR 2020 National RL24 Championship (1).pdf
---
Rob Legg Invitation Series
ROB LEGG INVITATION SERIES
All RL24 owners are invited to participate in the Robb Legg Invitation Series to celebrate his contribution to RL sailing.
The Robb Legg Invitation Series is a New Initiative of the RL24 Association and will become a regular part of our sailing calendar each year.
Please see the attached file for details.
View:
ROB LEGG INVITATION SERIES 2.pdf
---
RL24s racing on Nationals Day Jan 2019 and Presentation Night at 2019 RL24 Nationals

---
---
2018-2019 Membership Invoice
Now is the time to renew your membership with the RL24 Association.
Your support is appreciated and will held to contin ue holding Nationals and State Championships.
View:
MEMBERSHIP INVOICE 2018-2019.pdf
---
---
45th National Results - Invitation Races 7 Jan 18
Below are the results of both the Swing Keel and Drop Keel Divisions for the Invitation Races.
---
2017 National Titles completed at Gippsland Lakes Yacht Club.
Pretty close to a perfect National Titles! 14 boats, some excellent social times and great weather.
There are some great photos at www.lafoto.com.au follow the links Sail> RL24 Nationals
Results can be found at the Gippsland Lake Yacht Club site http://www.sailres.com/view.php?s=604
Wayne Hill
President, RL24 Owners Association
---
---
---
Article in MySailing.com.au
Lisa Ratcliff has written an article on the RL24 Nationals for MySailing.com.au. Click here to read the article.
---
---
---
---
---
---