I have little love for "Bass Strait". In my mind it is a treacherous, unpredictable stretch of water, where the roaring forties were responsible for the demise of many a ship and a lot of lives. My few experiences in those waters have been unhappy ones.
I had been dumped from a surf boat and half drowned in a big surf at Point Leo, and as a youth my father had organised a trip with a relative from San Remo. He was a shark fisherman and operated in the waters around Wilson's Promontory. Bass Strait was up to its usual tricks that week, it rained. The south westerly wind never stopped howling; in spite of it being summer the water was bitterly cold and the seas never seemed to abate.
I always suspected that I was sent on that excursion to try and cure me of my fascination for boats and the sea, but in spite of being seasick for most of the five days, bitterly cold, and having developed a lifelong aversion to "flake" from the fish shop, nothing changed, except I now had a greater respect for fishermen, and a dislike for the waters of Bass Strait.
We had been moulding the hulls of "Kitty Cats" for a boat builder in Melbourne. He had an order for a large trimaran for a Sydney client and decided to deliver the boat by sea. Two days after leaving Melbourne a storm came out of the west and caught him somewhere in the Strait.
He was never heard of again! His last words to me had been, "I will pay you for the last lot of mouldings when I get back", but he never ever made it back, and of course the trimaran owner never got his boat either.
Remember "Gypsy Moth", with Sir Francis Chichester? She sailed around the world untroubled. Then with a new owner in charge, she was wrecked in a storm on Gabo Island at the eastern end of the Strait.
Even more recently the boats in the 1998 Sydney to Hobart race was in big trouble on the eastern end of the Strait, and six lives were lost and sixty boats had to be rescued.
By the late fifties large powered outboards were available in Australia, and we had just started building larger power boats to suit them. My first design was an 18 footer, and one of our first owners was a member of the Coast Guard in Melbourne. He had purchased a bare hull and kit for home completion and had decided on a "West Bend" outboard, and being a very careful man he completely disassembled the motor looking for possible problems, and put it back together before even trying it out.
I was rather concerned when we were told that the boat and motor was going to be tried out down in the waters around Bass Strait. I was disappointed too, as I had hoped to be around when this, our first boat to a new design, was tried out. We heard nothing more until several weeks later when a news paper cutting arrived in the mail.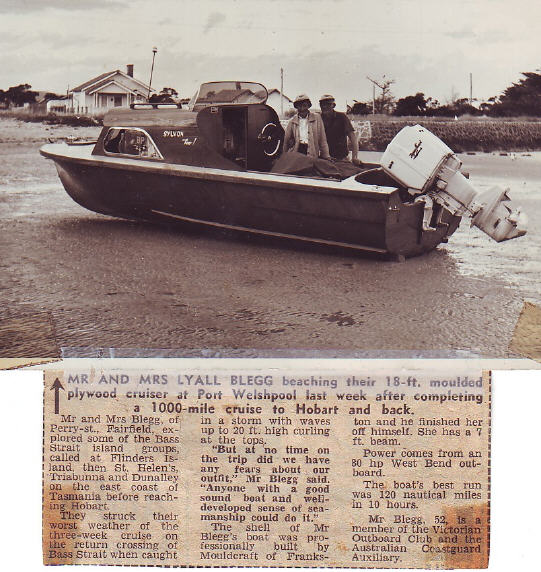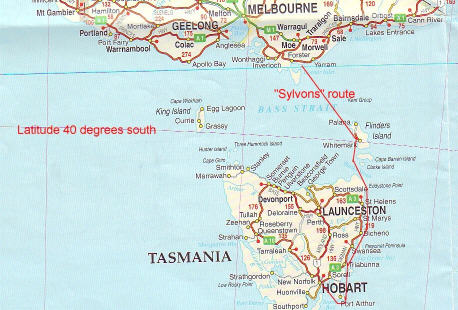 Sylvon covered close to 600 nautical miles on the trip from Port Welshpool to Hobart and return.
She carried a full 44 gallon drum of pre mixed petrol in the cockpit.
We had no idea that the owner had intended to take on a trip of that magnitude especially with an untried boat, powered by what we considered was an unreliable brand of motor, and in waters that were so unpredictable. There was no way of forecasting weather conditions in advance; no weather stations existed then between the South Pole and Melbourne. The cold fronts and gales that swung up from the south arrived with no warning, no radar or satellite pictures existed, and even the most experienced were caught by surprise.
We were told later by the owner of "Sylvon" that he had no intention of going to Tasmania when he first arrived at Port Welshpool. The weather was so calm, the sea looked so inviting that they took the risk, went to Flinders Island, then with the weather holding, why not head for Hobart?
What could have been a complete disaster for the owners, and ourselves if things had gone wrong, turned out to be to our advantage as the new boat gained a reputation for its good rough water qualities. It became the boat of choice as a rescue boat for sailing clubs on Port Phillip Bay, and it turned out that in crossing to Hobart a new record time was set. Before that time any small boat crossings were made by displacement hulls powered by inboard engines, and seldom exceeded six knots. Although attempts were made to set a better time, usually bad weather spoiled the plans, and it was some twenty years before a small outboard powered boat finally found the right conditions and bettered the time.
Of late, and with the ability to reasonably predict the weather many have taken on the challenge, even a sailboard and several sea canoes have made the crossing, and there is an annual yacht race from Melbourne.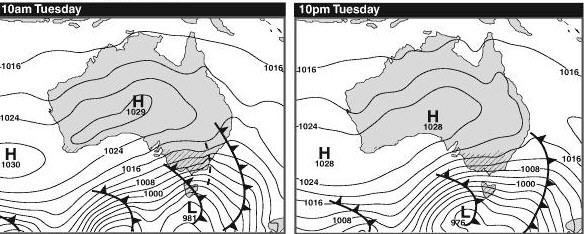 Weather map. courtesy of "Bureau of Metrology" 1/7/08.
As I was finishing off this story I checked to see how "Bass strait" was behaving. There it was! Cold fronts and gales coming up from the South Pole, and sweeping through the Strait from west to east, and the wind was gusting at over sixty knots on Wilson's Promontory. It was a miserable day in the southern states, and beware any boats plying the Strait that day. As for me, I still haven't had any luck, and the last time I crossed in the Ferry. It was a Hell of a rough trip.