The Burnett river is a popular stretch of water. It serves as a port for Bundaberg's sugar industry, the sailing club makes use of it, there is a fishing fleet, a rowing club, some very big groper inhabit its waters, and the water skiing is excellent upstream of the bridges.
Winter is best. The weather is mostly warm and sunny and Bundaberg is quite often a stop-over destination for yachts headed for the winter cruising grounds further north.
Most Sundays we used to spend time on the river, either skiing or just taking the interesting run up to the entrance, and sometimes out, into the Coral sea. In normal south-easterly weather, the coast all the way down to the Great Sandy Straights is protected by Fraser Island.
We sometimes ran alongside yachts coming into the river and chatted with them. They often asked directions, and if the boat was small with only a couple on board, we sometimes invited them home for a shower and a meal. It so happened that on this particular day we came across a tiny trimaran, only around twenty eight feet long and rather battered looking. There were two pleasant young men on board, and they asked what we thought was a rather strange question, "Does this entrance lead us in to Maryborough?"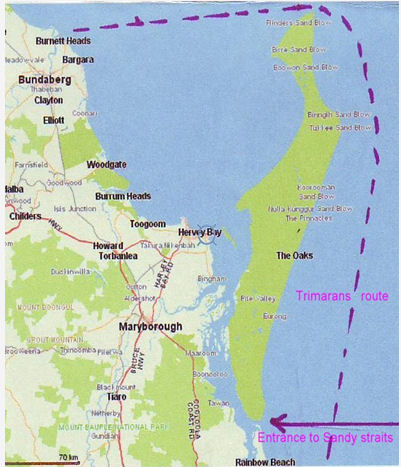 We explained that this was the entrance to Bundaberg, and they seemed quite upset that they had missed Maryborough. They had missed the entrance to the Great Sandy Straights and sailed up the wrong side of Fraser Island. When we asked where they came from, it was surprising to hear, "Adelaide" !
We commented that it was a long way to come in such a small boat, but no, they had been moored in the Brisbane river, when the big flood from the April 1967 cyclone literally washed them out of the Brisbane river.
There were few facilities on board their tiny boat. A tiny cabin with two narrow berths, a bench with a primus cooker, and odd bits of gear. When I asked what they used to navigate with, they produced a pocket compass and an old school atlas. It sounded like they could with some help, so we invited them home for a shower and a hot meal.
We retrieved our boat at the ramp on the north bank and duly picked up the two young men from their boat moored on the south side, and took them home.
Over dinner the conversation got around to their trip, and this is their strange story.
The two young men had been recruited by a religious sect in Adelaide, and had been sent to their headquarters in Sydney for training. Both were married and one had four children. When we enquired about how their families would get on without them, the reply was "The good Lord would look after them!" They had been given three months religious training to become missionaries, and then given a one week's training about sailing. Neither had ever sailed before. There was no training on navigation, but were given a pocket compass and a school atlas. The little trimaran had been purchased for them, and they were told to "Go forth" and convert the savages.
They had reached Brisbane after several stops along the way, and had been moored in the river opposite the Botanical Gardens. They were waiting for funds to continue their trip when the cyclone flooded Brisbane, and they were literally washed out to sea. It appeared that the "Good Lord" had decided that it was time that they moved on, so He had sent the flood, and had delivered a plank of timber down the river that would replace their cracked rudder blade.
They next came across the Sunshine Coast, and were able to contact headquarters and have their missed funds sent on to Maryborough. But it seems that "The Good Lord" had decided that Bundaberg should be their port of call, and we had been "Heaven sent down the river" to meet them.
So could they please make a phone call to reorganise their funds yet again, and have them sent to Bundaberg.
We enquired about their future plans, and where were they headed?
We must carry on until we are given a sign, and then we will know where to stop, and do our work!!!
They were around town for several more weeks, and we had met them at the post office, still enquiring about their funds, and I had gone down to the boat and offered to repair a small crack in the starboard hull, or at least run their plank through the planer and shape it a little, to at least make it look like a rudder blade. But NO, that was what they had been provided with and nothing was to be changed!
The little trimaran finally departed and I had misgivings about letting them head north with so little equipment and what I considered an unseaworthy boat.
We heard no more, and often wondered if they ever received their sign to stop and do their work. Then eighteen months later at Christmas time we received a card from Thursday Island, telling us that they had found the place where they were destined to stop and "Do the Lord's work".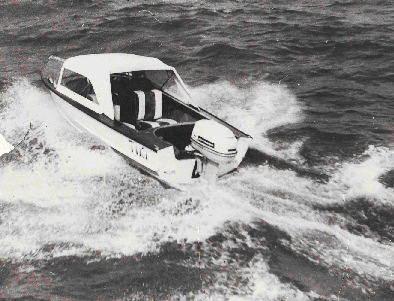 Over a period of five years we covered several thousand sea miles in Tiki without incident,
she was moulded ply construction, but often mistaken for Fibreglass. The 40 HP Johnson
outboard always started second pull and never let us down.