The Grand Plan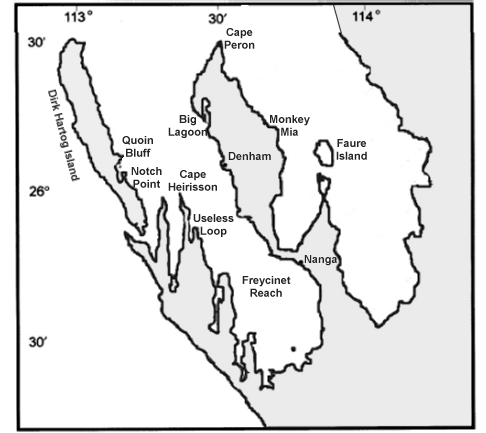 The vision is to explore the North West Coast of Western Australia over a sixteen week period using a RL 24 Trailer Sailer as our home on land and at sea. Accumulated leave allows us to take off between late May and early September, an ideal time for the Pilbara coast with its mid to high 20 temperatures and predictable winds.
Why the RL24?
In choosing the the RL24, we were swayed by the near flat bottom, the fully retractable keel and the ease of launch and retrieve. Sometimes, when I haven't stood upright for a while I look wishfully at the larger boats around us but when we're exploring sandy cays and coral reefs it comes into its own. The Nissan Patrol also welcomes the change from towing our 19' power boat and returns exceptional mileage. I am continually meeting people who exclaim proudly "I used to have an RL 24. Great boat."

The boat we bought was pretty bare and we have spent a very enjoyable seven months fitting it out to meet our needs and making it comfortable inside. Being a keen fisherman, I paid a lot of attention to rod holding needs, bait tables and tackle storage as well as sailing requirements.

We named our floating palace Cape Rose after a much loved feature of Shark Bay.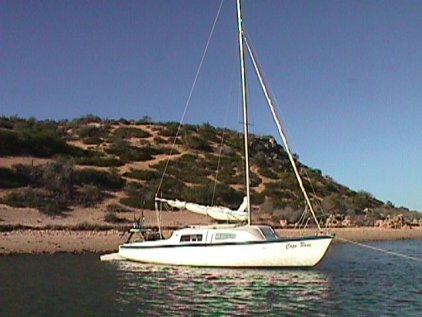 Cape Rose - Cape Heirisson, Shark Bay
Modifications
Purchased second-hand, Cape Rose came with a single main and a roller reefing jib. Deck hardware consisted of two single speed winches and v-cleats for the jib sheets. The first thing we did was to provide cam cleats for each line. The last of these we installed and certainly the most useful was a small cam cleat for the roller cord. It's amazing what a difference it makes to rapid jib changes.
Being more interested in sailing comfortably (and fairly upright) rather than quickly, we had two reefing points installed in the main, using a Cunningham arrangement at the tack and a series of v-cleats at the clew end. This seems to work fine although we are still coming to grips with taking in a reef when the wind is up.
The roller reefer came equipped with a wire jib halyard. The problem we experienced was that the last few centimetres of wire between the jib and the top block unravelled when sailing with a partly furled jib. After two wires in only a few outings, we swapped it for low stretch cord. A big improvement.
We added an access hatch to the port cockpit seats. Since we were not using the quarter bunks for sleeping, this allowed us to put a tote box under the hatch and get ready access to snorkelling gear pieces of rope, winch handle etc.
Fixing an annoying leak became a prioirty. Although not life-threatening, constant slops in the bilges made dry storage in lockers an issue. Somehowm the water always found a way through. After wasting a considerable amount of time trying to find where the water entered the bilges from the keel box on the inside and applying liberal amounts of resin on spec, We consulted a professional, had the keel removed and the keel box glassed from the outside. At the same time, the keel was sandblasted and two-pack painted. We also had the pivot bush rebuilt. Years of wear had elongated the pivot hold with the result that the keel slapped badly in sloppy seas. It was this action which was causing damage to the keel box and creating leaks.
Creature Comforts
Instrument Panel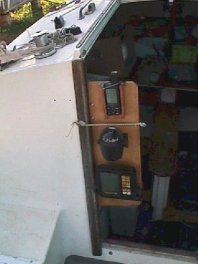 A hinged board attached to the companionway frame holds the compass, a small hand-held GPS and a small echo-sounder. When not in use, the instrument panel folds back into the cabin well out of the way (and secure when the cabin is locked). When sailing, the board swings out and is held in place by a length or shock-cord. We originally had a length of aluminium bracket to hold the board in place but this was quickly bent as we moved past the board in heavy weather. The shock cord allows the whole arrangement to move with us and has proved most satisfactory.

Navigation is made very easy with the GPS and sounder. I can't imagine life without them. The sounder is particularly useful in shallow water. In coral areas, the water is sometimes so clear that you think you are in 1 metre when you have 3 metres of clearance. I'm forever probing the bottom with a length of broom handle in disbelief.

The Solar Charging System
Our system consists of a Solarex 54 Watt panel connected to 2 Trojan T105A 6 volt batteries. The main draw on the system is a 47 litre Supa Kool compressor driven fridge. Rated at less than 1 amp per hour, we have a theoretical limit of 10 days before the batteries reach that critical 50% capacity and need recharging.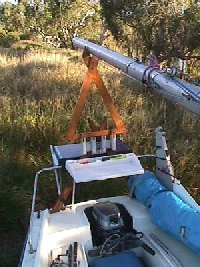 Stern rail showing solar panel, bait table,
rod holder and mast support.
When trailering, the upper mast support
is removed and the mast sits lower.
The ammeter on the solar charging system is also a great asset. Installed almost as an afterthought, we refer to it constantly when we are in a position to choose which way we want to face. This helps maximise battery charging.
The theoretical limit of 10 days worth of battery isn't proving quite so easy, mainly due to our carelessness with power. We leave two lights on at night when one would suffice, we leave the sounder and GPS running for hours while at anchor and the fridge remains on throughout the night when it could probably be quite safely turned off. Even so, we have had no problems staying out for five days. Maintaining water for much longer is more of an issue than batteries.
Computers and Phones
As the mobile phone network expands and improves, so does the service. We have had good service in many areas of Shark Bay. Exmouth was more limited with service cutting out only 5 miles South of the marina.

The computers are a bit of a pain. On the one hand we have a reasonably powerful laptop with all the features we want. This runs with an external monitor and the whole thing is packed into a sturdy specially made wooden container. A nice computer but it takes up space and seems to take an age fiddling with little cords and power leads to get it set up. On the other hand we have a simple but slow ancient old XT laptop with no hard drive. It is easy to set up, runs fine in the boat but is only suitable for word processing.

In practice, I write on the old laptop and transfer things to the other system for layout and e-mailing. The e-mail using a mobile phone is very slow (and therefore expensive). Initially, we set up hotmail but we soon found that this was too inefficient because all mail remained on the server. We established another account from iiNet which is only suitable for e-mail but at $5 a month is good value.
Go on to Cooking Page