Designing a New RL

by Rob Legg
Part 4

To comply with Yachting Australia's definition of a "Type 1 Trailable Boat" there are rules to follow (as per the "Blue Book") and these rules require at least two functional berths, and minimum headroom in the cabin measured vertically and continuously of 1.05m over an area of one square metre of the cabin sole. This is easily done by going back to our lines drawings and blocking in the necessary dimensions, and from our water lines we can get the shape of the cabin sole, berths widths, and from the sections drawing the final cabin shape, just as long as we keep out side of the blocked-in red square.

It is obvious that we can comply with the rules defining a trailable boat and there is room for two single berths, one of which could be converted to a double if required.

Click here to see pages from the Rule Book affecting the boat design.

Click here for the stability calculations. (PDF file will open in a new window)

We now have to comply with other rules that directly effect the category under which the boat will be allowed to race and this in turn is controlled largely by the waters in which the boat will be used.

"Category 4" allows boats to compete in short races, close to shore in relatively warm or protected waters, normally held in daylight, and would be about the highest category that a boat of this type could expect to achieve, but it does create some problems that need to be overcome and that directly affects the construction.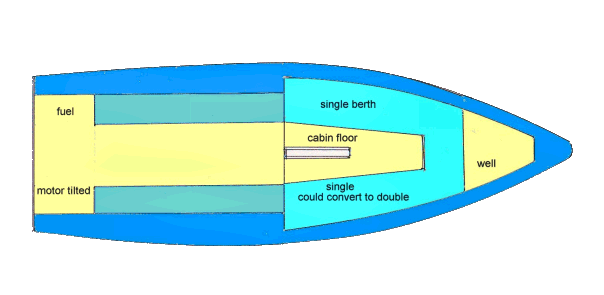 Firstly boats with open cockpits aft have become very popular, but this now requires that the cabin companionway opening must be above the sheer line, which in turn makes entry into the cabin very difficult in a small boat. So reluctantly we return to the use of a full transom and forget the idea of the slide out, and pivot down motor.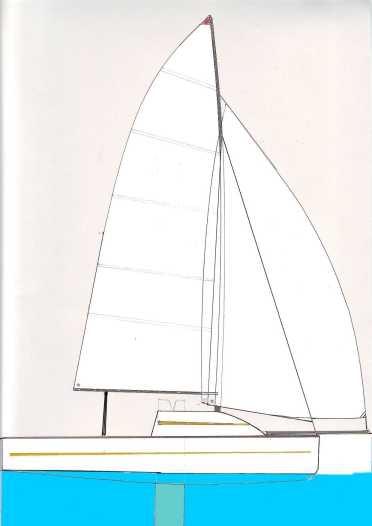 Note. I have spent some time researching overseas built boats of this type and none seem to fully comply with current Australian requirements.(Very few local boats conform either).

The cockpit layout has been altered because the side decks were too narrow to allow the boat to float on its side without taking water into the cockpit, and this would have negatively affected the self righting calculations, and as the rules stand, a pull-down test will be required to finally calculate the "Righting Moment Index." However, if it were required to increase keel ballast to finally comply, it would be simple to add more.

There will be limited stowage space in the cabin - under the berths and the forward part of the cockpit seating. However if any cooking is to be done inside, the rules require another hatch be fitted forward in the cabin.

What started out as a simple day sailer seems to have ended up as a fully blown trailable yacht with a quite high power-to-weight ratio and the potential of "Category 4 rating". If carefully constructed and kept basic without the addition of unnecessary plumbing and electrics, the performance should be very competitive and the boat simple and economical to build.

It is noticeable that in recent times the governing authorities have been creating more and more complex rules that effect sailing events, and it would be in the best interests of the sport of sailing if this were to cease.

My thanks to Alastair for his help in researching rules and current trends. And to all those who have made suggestions towards the design of this boat, although unfortunately many could not be adopted because the regulations didn't allow for them. And after all, "Rules is rules."