The RL Story

by Rob Legg
Episode 1
Swinburne Technical College was a miserable place in 1944. The quadrangle had been dug up for air raid trenches, and all the younger teachers had disappeared (probably enlisted) leaving mostly grumpy older staff.

I wanted out. I had never been happy there; it seemed more like a jail to me. I had been riding my bike from Doncaster each day, the round trip about 25 miles, and in the winter it meant leaving and arriving home in the dark. There was no street lighting for the last three miles, and my acetylene head light gave nothing but trouble.

During the last week of the year we were offered the opportunity to see the places that we could take up apprenticeships, and as I would be sixteen in four weeks time, I could leave.

I had been interested in becoming a marine engineer, and the only place in Melbourne taking apprentices was "Tynes Iron Foundry". As soon as we walked in the door, I changed my mind, this had to be the dirtiest noisiest place I had ever been in. There was a row of boilers with the apprentices inside, holding doleys, and men on the outside belting red hot rivets with sledge hammers. And this was where they started new apprentices! NO WAY!

What now? I could go looking for a job at something else. WRONG!

The war was in its fifth year and it appeared that I didn't have a choice. It was compulsory to register with "Manpower" and was told. "If you don't go back to school you will take up a job at "BGE ". They want some one to work at assembling telephone relays. OK then, anything was better than going back to school, or working in an iron foundry.

At British General Electric I was instructed in assembling telephone relays, at the princely wage of twenty five shillings a week, and that summer I spent most of my pay at week ends down at Albert park lake, and taught myself to sail (on Pop Hooper's hire boats). That was something I had wanted to do for a long time.

There seemed to be no future in staying at BGE, as all their top staff was brought in from England and it appeared that Australians just didn't get promoted there. I thought it most peculiar that a manager would wear a bow tie, carry a handkerchief up his sleeve and leave a leaf of toilet paper around the edge of the seat after he left the toilet.

At the end of twelve months I was allowed to leave, and I found a job with a chemical company.. They were offering seventy shillings a week, and to me seemed a much more enlightened crowd.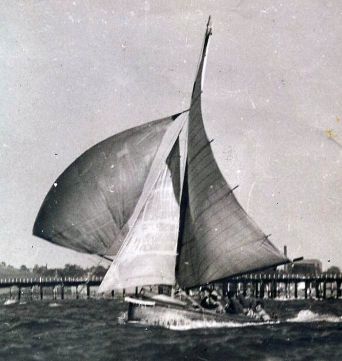 This photo of Trojen was taken with the first Telephoto newspaper camera.
It was taken from the St Kilda pier, and looking toward the old Point Ormand Pier
two miles away. My job down wind was also to hold the boom down to prevent a
Chinese gibe as boom vangs hadn't been invented then.
---
Now with cash to spare I could at last afford to join a sailing club, and that was something I had been longing to do for a long time. Hanging around the St Kilda fourteen footer club on a Saturday and hoping to be picked as a bailer boy when the weather was rough was fine, but I wanted badly to belong and sail every Saturday in a permanent crew.

There was a boat in the club called "Trojen", owned by Bob Keeley, he had asked if I would care to join his crew (would I ever), and so it came about that I became the main sheet hand on Trojen .

On moderate days we sailed with four in the crew, but when it was blowing we picked another as bailer boy.

I got on fine with Bob Keeley. He was always trying something new and we soon became great mates. And we tried out all sorts of new ideas together.

Sailing now became the dominant thing in my life. My lunch times at work were mostly spent down in Flinders Street, wondering through Ingless Smiths or Burrows ships chandlery or finding an excuse to go in to Radin the sail makers.

The fourteen footers club had a junior class, it was eight feet long, cat rigged and carried seventy square feet of sail. These boats sailed on a Sunday morning, so if I built one it meant that I could sail both on Saturday and Sunday.

My parents had moved from Doncaster ,and bought a small mixed business near the corner of Hoddle and Johnston Streets in Collingwood. This was quite a culture shock for me, being used to the wide open spaces and a shed in a big back yard, however it did have the big advantage of being much closer to sailing and work.

Our new back yard was about fifteen feet by ten, this would be just enough to build a boat, so I bought a set of plans from the club!

I still remember most of the specifications. It was to have half inch Maple or Silver Ash planking, a half inch planked deck, and a 2x1" frame every foot. By today's standards this was ridiculously heavy, but that was quite normal then, and water proof plywood was not yet available.

Fastenings were copper nails and roves, and I still have some of the left overs today.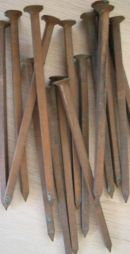 Left over three inch nails from my first boat.
---
The instructions said, "All timber to timber surfaces should be coated with red lead before assembly". The finished boat weighed around one hundred and fifty pounds, and was quite a lift for two men. A friend with a small truck took the hull down to the sailing club where I could paint it, and I still had to make the 17 ft mast, that was a problem as the only space that had the length was upstairs in the hall way of the house, and after some wild promises made to my parents that was where it was built.

The mast complete, how to get it to St Kilda? My father solved this, (any thing to get rid of it) Dad bailed up the driver of the early Sunday morning Point Ormond 'bus and asked him if on his next early Sunday trip would he take the mast and me to St Kilda? The following Sunday the bus turned up. We tied the mast on through the sliding windows, gave the driver five bob, and off we went. I can't imagine the driver of a Tramways bus doing that today!

I sailed that boat for a season, and that winter built another boat, I had obtained some of the first water proof plywood available and against all advice, used it. I changed the shape by flattening out the floor and making the bow finer. At half the weight, it was a great success.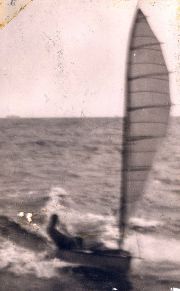 My second eight footer built of plywood
Note experimental curved mast top.
---
While constructing the second boat I had discussed with Bob the poor quality sails that were being made by the local sail makers, that was if they would make them for you at all, and we agreed that we could do as well if not better our selves.

We decided to give it a try, so I gave up my job. We pooled our resources, bought a second hand industrial sewing machine, and for a start took on repairing sails.

The two sail makers in Melbourne had been overwhelmed with work from the war. One Saturday I was asked to go and pick up a sail we had left with a sail maker in Elwood months before, it just needed a simple repair. I was shown in to a room packed with old sails and was told, "If you can find it just take it away".

The second boat built in the back yard in Collingwood had quarter inch bottom and deck. It caused some mirth down at the club, some suggested it would fall apart, or just bounce around on the waves.

In fact the boat was still over built and future boats were much lighter still.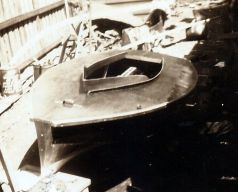 In the skiff and dinghy classes the formula for more speed had been, "pack in more crew and put up more sail" This had reached a crazy situation where 14 footers were carrying two hundred and forty square feet of sail and packing five men out on the side, plus a bailer boy who either sat in the bilge pumping all day, or perched on top of some unfortunate crew member.

The boats were so unstable that they would not sit up in the water on their own without a crew member holding on each side.

Getting off the beach and in to deeper water was an art. It went like this:
One of the crew on each side to hold the boat into the wind.
Skipper in first and picks up the rudder
Forward hand next and holds centre board up in slot
Second forward hand next pulls the bow away, then jumps in and gets the jib on
Main sheet hand swings in and gets the main on half way, the boat then had to be sailed out to windward just steered with the sails until it was deep enough to juggle the rudder in.
We had set up our sail making in a spare bed room at Bob's parent's house in Windsor, and had little trouble getting small repair jobs.

Life was slowly getting back to normal again after the war and demand soon outstripped the supply of most materials, and services. Small boats were being built again and there was a boom in the building of "Sabots",

So orders for new sails started coming in and we were kept busy. It was not unusual for us to work through in to the early hours.

The premier sail cloth available was Egyptian cotton and sails made with it were roped with Manilla rope which was hand stitched to the sail, and a lot of the shape in the sail was dependant on how much cloth was pulled down in to the lay of the rope during stitching. So the sail maker had to allow extra cloth for this. It was important for racing sails to be made using just the one roll of cloth, as the shrinkage varied a lot between rolls.

A wet sail could shrink six inches or more on a wet day and completely changed shape. This was a big problem when we experimented with long battens in mainsails, as when the cloth shrunk, it put a lot of pressure on the batten and the sail became impossibly full. No help at all on a wet day or after a capsize.

Light nylon cloth came on the market and we tried using this on spinnakers but it stretched so much that that it had to be cut back after every use.

Sailing clubs were very strong in this era. In the Fourteens club there were thirty plus boats and a membership of around one hundred and fifty. Not one owner owned a trailer and that meant that work done on boats was done in the club house, and on most Friday nights it was a great place to be. It was a hive of industry.

It is sad to note that years later when boats became lighter and were mostly taken home on trailers the clubs as such just disappeared.

Every thing was going well with the sail making until we were notified by our supplier that in future deliveries would be rationed. This caused us concern. We decided that both of us would go in to Melbourne and sort this out. Here we were told that all stocks had dried up, and that very little was expected to come out of Egypt in the near future, and there were no other avenues to try.

It is of interest to note that Bob Keeley persisted and kept going until supplies improved and continued making sails for many years. Today he is still in business but is mostly involved in the manufacture of spars and flag poles. He is still going strong after more than fifty five years in the industry.