Before I continue my story I feel there is something else that should be recorded.
I had previously mentioned Geoff Baker who had decided that he wanted to work with me on the condition that he could take time off to go whaling over at Carnarvon. Geoff did go whaling. He rode his two stroke motor bike over and back on the then unsealed Nullarbor highway and in those days that was a feat in itself. He then spent another year with us, and one day came to me and said, "Rob its been great working with you, but now I have finished my boat I will be heading off".
"Off? Off where". I asked?
"I told you when I started, I was going to build a JOG and sail it around Australia. Well the boat's finished and I'm going!"
Geoff had been an incredibly energetic young man. If I ever wanted to get going at work early in the morning he was always there too, or if we worked late to get a boat finished, Geoff was there. Square dancing was his passion. He went sometimes three times a week, and he drove us mad, singing square dance calls all day. His hero was Jim Vickers Willis the square dance caller.
Twelve months after Geoff left I received a letter. He had reached Fremantle sailing anticlockwise around Australia all the way on his own, but had asked his girlfriend to go over and sail the rest of the way home with him.
I believe that was only the second time ever, a sailing boat had circumnavigated Australia and never alone. I have tried but have not been able to find any record of his trip, nor had I ever heard from him again.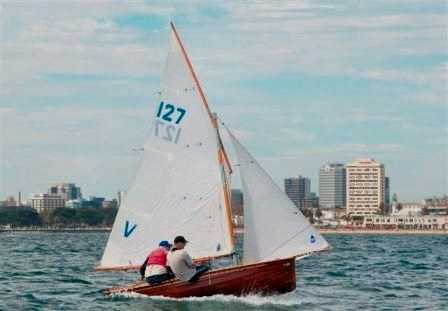 Photo. Courtesy of the Royal Brighton web site.
Note. The lug rig, and low boom.
The sailing elimination trials for the Helsinki games were held on courses between Brighton and St Kilda. A big problem was no one in Australia had ever seen a Finn class boat, let alone sailed one, and the Olympic committee couldn't find a suitable single handed class boat for the trials. Their solution was to borrow six clinker built cadet dinghies from Brighton yacht club. The six boats were taken over to "Savages" yard at Williamstown, and the masts were moved a foot further forward along with the chain plates, and the headsail gear removed. Really they were nothing remotely like the Olympic Finn class boats.
The cadet dinghies were a completely open boat with a bow sprit and a single halyard lug rigged mainsail. This was in complete contrast to a Finn class boat which has an unsupported mast, and sail shape is dependant on main sheet tension and just how hard the wedge is driven in between the mast and boom
It was tough going sailing the cadet dinghies in rough conditions, and there were several problems to overcome,
Every time the boat was put about, the lug had to be dipped, otherwise it would end up on the wrong side of the mast, and the boat wouldn't point. The trouble was, the downhaul rope was too far from the helm, and in the middle of a tack you had to let go of the helm and go forward to dip the lug.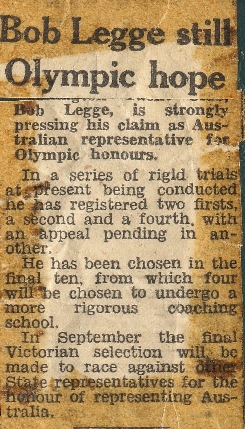 It would only go over when there was no pressure on the sheet, but the boom was low and the boat didn't want to keep rounding on to the next tack without a hand on the helm.
This problem certainly did dampen any enthusiasm for tacking duels, so boats tended to take long legs to avoid having to go about. Not the ideal thing for good racing.
Another problem: These little boats tended to be quite wet to windward, taking water over the bow, so how did you bail with a bailer on a stick while one hand was on the tiller and the other working the main sheet?
Those cadet dinghies were, and still are, great training boats for youngsters, but a poor substitute for a Finn, and I felt sorry for the eventual winner of the series going into an entirely different boat, and expected to be competitive in the Olympics.
Now coming in to our third year and with four employees I could find the time to build myself a new "Venture" 14 footer for the forthcoming national titles in Perth at Christmas.
I still couldn't afford a car, because I put every spare penny into improving the business, and the only practical way to get our boats over to Perth was by ship. The two crews would travel by train.
We hired a truck to take the boats to the wharf and expected to be able to at keep an eye on the them being loaded, but were told to clear out or they would end up match sticks, although a couple of quid would help look after them. (Melbourne wharves were notorious then.)
The train trip to Perth was a slow affair then. You changed trains at Port Augusta and then to a very narrow gauge train at Kalgoorlie. There was no air conditioning; the open windows let in plenty of red dust, and the only place to get a drink was from the canvas water bags hanging on the back of the observation car.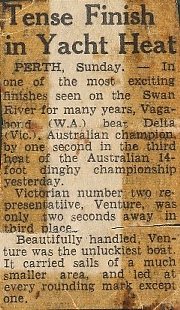 I was now very interested in yacht design, and it was very noticeable how the different states had developed their own boat shapes. National championships were rotated each year between Brisbane, Sydney, Melbourne, Adelaide and Perth, and sailing conditions varied greatly from one venue to another. West Australian boats had been very hard to beat in the past on their home waters because the conditions there were so different to those in the other states, but this year we had boats that I was sure could beat them. We took over two boats that would plane on the long reaches on their Brick landing course. They had developed easily-driven displacement type hulls with big rigs which were suited to the old heavy boats, but our boats were now half the weight.
These new light weight boats were still very much in the development stage. There had never been a dinghy class that would plane before, and we still hadn't got the balance of crew weight to sail area right. For my new boat I had dropped the sail area to 180 sq ft, and was sailing only with two crew, whilst the other Victorian boat, "Delta", (we had moulded the hulls, but it was Ron McCollum's design) had opted for the full 220 sq ft and a crew of four.
The racing was incredibly close with only three seconds separating the first three boats in one race. We were the fastest boat to windward and reaching, but the slowest off the wind. My mistake. We could have handled a full sized spinnaker.
The face of sailing had changed forever, and with some consequences that I would regret.
The advent of the light weight planing hulls with the small crews meant that the boats were a lot easier to move around, trailing them was easy, and they could be stored at home. A club that used to have thirty boats, and needed over a hundred crew to sail them, now only needed sixty active members, and they were only around on race days. Clubs then simply became hosts to the mobile fleets.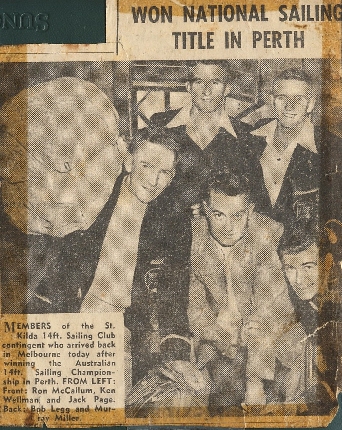 The fourteen footer club that I had enjoyed so much simply disappeared after a few years.
Back at work, and I received notice that my patent had been granted, and that was good reason to celebrate, for it meant that I was protected from anyone else from using our method of moulding boats.
The day after that my patent attorney sent a telegram, asking me to phone him. He asked if I could attend a meeting the following week in his office. I duly went to his meeting, and to my surprise there were four other people present; one was a stock broker, and the other two were investors.
I was asked if I would be interested in being involved in a company to set up building my boats. Then they started talking about building a factory and raising finance. They would become directors, and I would receive twenty five percent of the shares. We could borrow a very large sum, and then the discussion got around to directors fees. I was starting to get scared with all this talk of big money. I just wanted to left alone to build my boats, and as long as I could make ends meet, that was fine by me.
I simply said, "Thank you but NO", and got out as quick as I could.
For a long time after I was concerned that the company may have been formed without me, and in some way, with a patent attorney involved they may have got around the patent .