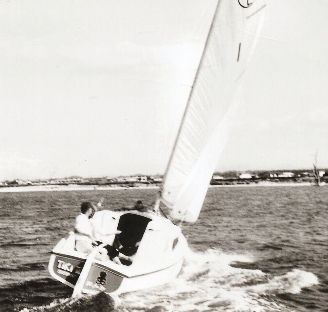 Tiki 11 was the first RL24, and was timber. She was used as a plug for the
moulds of the GRP boats. I know it is confusing but Tiki was the first of
our GRP boats. (This is the only photo I have of Tiki 11).
---
The drought hit Bundaberg hard, and at the same time Bunding, the local ship yard, was hit by crippling strikes. They had taken on workers from the abandoned ship yards in Whyalla, and they immediately caused strife, forcing Bunding into bankruptcy.
We moved on down to the Gold Coast to see what it was really like and settled for a high set house in Anglers Paradise.
The "Broadwater" looked very attractive, and I pulled out the set of drawings that had been put aside many years before. If ever there was a place that was suited to a big trailable yacht, this was it.
Now with some time on my hands, I set to work and soon had a hull built. A member of the Southport Surf club got to hear about it and asked if he could have a set of plans to build one too. He actually got his boat finished before me.
The original RL24 Tiki 11 only had a timber keel, but was self righting (just), and we had home made sails. She won the cruising boat championship that year, and performed well against the local keelboats.
The trailer was home made too, but caused some alarm, because the only big boats on trailers at that time were power boats, and they needed support from the trailer right up to the transom, whereas a sailing boat with little weight in the stern doesn't need support that far back.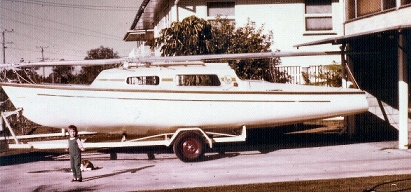 Tiki, the first GRP RL24 Mk1 after being fitted out under our house; the trailer was home made too.
The tiny tot is our daughter Jenni, born soon after arriving on the Gold Coast.
---
We had no real plans to start building boats again at that time; it all just happened by accident!
Down at the local shop one day I met a man who said that he had been looking for me, and would I be interested in giving him a hand for a while, and he invited me to sit down on the kerb side with him for a chat.
Bruce Harris was the local shark meshing contractor and he had been using a trawler to tend the shark nets, but he had a problem with the then notorious "Southport bar", and had already lost two wheel houses through having to come sideways thru the surf when the entrance was shallow. Bruce had designed and built a plywood catamaran that did seem to handle the conditions well, and now was going to build one in fibreglass.
Note: I will be referring to fibreglass construction in future as GRP which stands for glass reinforced plastic, its true description.
Would I care to come and have a look at what he was doing tomorrow? The following day I went over to the address that he had given me and arrived just in time to give Bruce a hand to roll the mould he was working on over on to its other side. He had laid up a pass on one side and was ready to work on the remaining side. Just as he started, the side he had been working on started to slide down on him, so we hurriedly turned the mould back again.
To enable the resin to be sprayed, Bruce had come up with an idea of joining two spray guns joined together so that one sprayed catalysed resin, and the other resin mixed with the accelerator.
The idea was that the two streams of resin would meet and intermix, before landing on the laid up glass matt, but it hadn't quite worked out that way. At the time there was no equipment available to spray on resin, let alone chopped glass rovings, so the resin had to be mixed in small amounts and rolled or brushed on. This was a very time consuming business.
Resin with just accelerator mixed in would keep for a long time, and resin with the catalyst mixed lasted for several days, and when sprayed separately the equipment only had to be cleaned daily.
A Shark Cat
I thought that Bruce's idea was very interesting and agreed to help him out for a few weeks, and his ideas on the building of his catamarans were intriguing too.
The completed catamaran was a success and handled the rough water very well. It created a lot of interest. The finish was a little crude but it didn't take long to tidy that up on later boats.
After a move to some larger premises I came to an agreement with Bruce. I would stay on and build his Shark Cats, if my 24 footer could be built there as well.
A lot of work was needed to be done on "Tiki 11" before the hull was ready to have a mould taken off, and we would have to make a whole new deck plug as the existing deck just didn't have the necessary clearances to take a mould off.
In the meantime the "Shark Cats" had proved their worth in rough water and were selling well. In particular they were ideal for the Abalone fishermen down south, and with the self draining floor we could fit a side opening door for easy access without the risk of swamping the boat.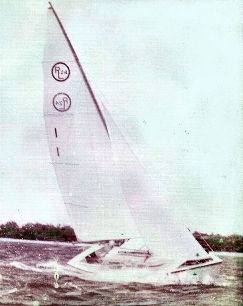 This was taken the day Tiki was launched. There was Cyclone
"Zoe" coming down the coast but we just couldn't wait to try
her out. It was blowing over 30kn, and we had her up and
planing on her first try out.
The Shark Cats became the standard boat for "Air Sea Rescue" and Coast Guards all over Australia, and later the "Water Police and "Harbours and Marine".
Our first GRP RL24 was launched in July 1973 and displayed at the next Brisbane Boat show, and after spending a weekend at the show I came home with five orders, and many requests for a demonstration sail.
With June and her girl friend we raced in every event that we could enter a trailerable yacht in, and besides local events we raced successfully in Brisbane's Lord Mayors Cup, and won the "Bribie Island Cup" by half an hour.
By 1974 there were fifty 24s sailing around Australia and an association had been formed. The first National titles were held in August of that year, with boats coming from three states, and as far a field as Whyalla and Port Pirie. The series was won by "Scarlet Lady" (Des Stanaway) of Brisbane, his boat was still being finished off during the series.
Before the first championship series we held a three day cruise up through the islands into Moreton Bay. This was the first night stopover at the Bedroom near Jumpinpin.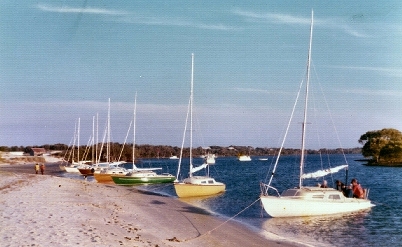 The Victorian Yachting Council held a series of races to determine yardsticks and the 24s just happened to be allocated the same yardstick as the Olympic Dragon class. This rating upset some Dragon owners, and one evening I received a telephone call from the owner of the top dragon in Brisbane (also the runner up in the national titles). I was told that our boats wouldn't have a hope of beating a Dragon, and he was sailing down to prove it. Sure enough a Dragon appeared the next Saturday morning cruising up and down in the channel opposite our house. Mal Wood and his crew had sailed all the way down from Manly to challenge us to a race.
June and I hastily rigged our boat, and organised a crew member to go out and race. We agreed to race from Crab Island all the way up to Tipplers Passage, and on the wind all the way.
We started about two boat lengths apart and after an hour and a half sailing at close quarters, we finished just two boat lengths apart.
We heard no more from the Dragons, and I guess that the VYC yard sticks were spot on.