Return to Tips and Modifications Page
Keel Winch and Lockdown for RL24s - Bill Post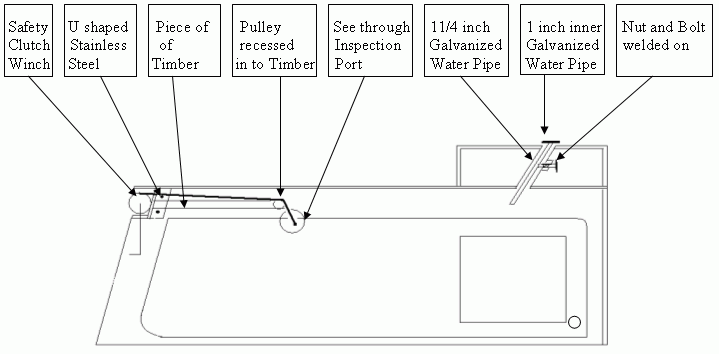 The Winch is a Safety Clutch Winch and cannot kick back. I got it from Germany at the time.

The Winch is tucked under the top of the Keel Case Cover, by cutting a piece out of the Case.

A piece of thick marine ply is the glassed over the cut out and then a piece of U shaped stainless steel is bolted over that to which the winch is bolted.

Take care not to cut too far into the Keel Case, a friend of mine did, and then had to cut a chunk out of the keel itself.

The Keel Lock Down is a 1 1/4 inch Galvanized Water Pipe build into the table, on top of the Keel Case through which a 1 inch pipe is inserted and held there by a grub screw, consisting of a hole drilled into the outer pipe, a ½ inch nut welded over the hole and a bolt through the nut holding the inner Pipe, and hopefully the Keel, in place, but still allowing it to slide back when hitting submerged objects.