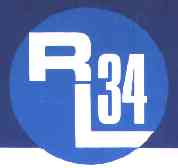 ---
---
WWW.RLYACHTS.NET

RL24, RL28, and RL34 Trailable Yachts
from Rob Legg Yachts
Return to Tips and Modifications Page
Modifications to the motor cabling on an RL28 - Phil Gardam
Ever since taking delivery of Jezabel (RL28) in 1999, I've been unimpressed and frustrated by the hesitation in the starting of the outboard (9.9hp Yamaha). Even with a brand new battery or a fully charged battery, hitting the start key didn't produce an instant starter-motorkick-in. As well, the best charge current I measured was about 1 amp maximum for a battery needing a good charge. Added to this were depth-sounder "reset problems" and other strange electrical events.

I have just replaced the cables from the motor to the batteries. The original cables were very light for a starter motor (about ? 50 amp or so). I have replaced them with 4 gauge cable (heavy and about $7 / metre but much lower resistance).

Also, the cables originally ran Outboard Motor ---> Back of instrument panel ---> Battery Isolator / Selector switch (via rear of Quarter Berth) ---> Battery positives (X 2)

By my estimate, about 11 metres of cable run for the positive and about 5 metres for the negative.


The result?
About 5 metres for the positive and about 4 metres for the negative. My worst battery now produces an instant and continuous starter-motor run! Measured Charge current: 5 amps (400 % improvement) A little early to say the sounder is cured, but no problems on my last run in the bay, so looks good......



Running the new cables involves a little crawling under the cockpit, and one new hole in the port cockpit locker. I made no attempt to remove the original cables from their cable ducts. They are well bedded-in there!